Valentine's Day, Anniversary, Love Candy Bear Bouquet Hottie Bear
Valentine's Day, Anniversary, Love Candy Bear Bouquet Hottie Bear
Visit our Add On's page to add Special Occasion Picks, Lollipops, Candy Bars and more extra goodies to your Candy Bear Bouquet!
This Hottie Bear Candy Bear Gift Bouquet is the hottest way to say "I Love You" for Anniversary, Valentine's Day or anytime! It features our Collectible 10 inch Hottie Bearington Bear. This "sizzling hot" bear is finely crafted with high quality fur, stitching, materials and details, and wears a red devil outfit complete with plush pointy red devil horns and a bendable plush red and black "devilish" tail. He holds a thick, layered felt red heart with black and white wavy trim, stitched with "Hottie" (just to remind you of how hot he is). Plus our romantic 13 oz. Ceramic Hearts Mug with red and white decal hearts all around, filled with 20-25 pieces of assorted popular chocolates, hot candies and love themed candies including Atomic Fireballs, Chocolate Hearts, Sweethearts, Hershey's Kisses and more. Topped with a Heart Shaped Swirl Lollipop, and a decadent "Hammond's" award winning Gourmet Chocolate Bar. Embellished with a lovely red Silk Rose, and our authentic Jelly Belly Tabasco Jelly Beans - seasoned with genuine Tabasco brand pepper sauce!
Need specific candies or ribbon colors? Optionally list your choices under "Click to request specific Candies/Colors" above. Visit our Candy Choices page to view all candies we carry. Otherwise we will include the ribbon colors shown, and actual candy assortment may vary/candy bar flavor may vary.
Be careful, this Candy Bear Bouquet may be too hot to handle! For Love, Anniversary, or just to say I Love You!

Featured Products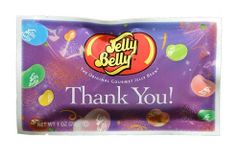 Jelly Belly Thank You Beans - ADD TO CANDY BEAR BOUQUET
$1.49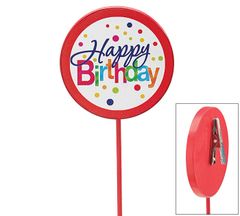 Happy Birthday Dots Wood Pick - ADD TO CANDY BEAR BOUQUET
$2.99