Valentine's Day, Anniversary, Love Candy Bear Bouquet Heartford w/ Love You To The Moon And Back Ceramic Mug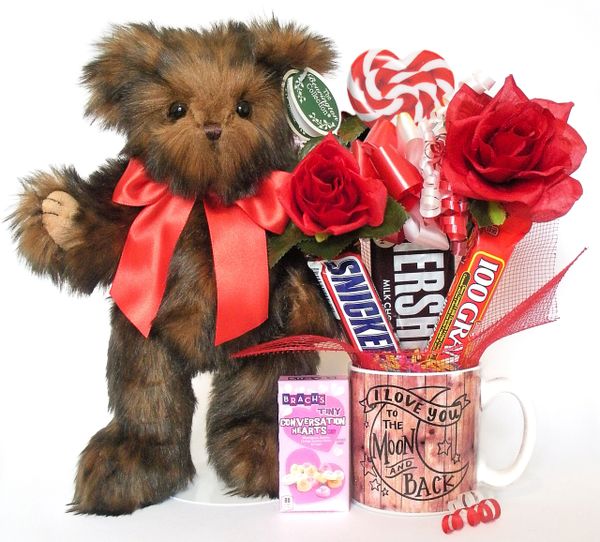 Valentine's Day, Anniversary, Love Candy Bear Bouquet Heartford w/ Love You To The Moon And Back Ceramic Mug
Heartford says, "I Love You to the Moon and Back" with this Candy Bear Gift Bouquet!  Great for Anniversary, Valentine's Day, or just to say "I Love You"!  It features our Cuddly Collectible 10.5 inch Heartford Bearington Bear.  Heartford is finely crafted with high quality fur, stitching and details illustrative of the award winning Bearington Bear Collection.  He has super soft (extremely pettable) long brown fur peppered with black fur highlights, and wears a fancy silky red ribbon bow.  This is our most elegant bear!  Plus our dreamy 13 oz. Ceramic Mug with message, "I Love You to the Moon and Back" which looks burned into the "wood slat" background, filled with 3 FULL SIZE Popular Candy Bars, a Box of Conversation Hearts Candies, and topped with your choice of a Strawberry Red Heart Swirl Lollipop, OR a Hand-Spun "Hammond's" Gourmet Lollipop.  Embellished with our lovely Silk Red Roses, decorative Red Mesh, and a Handmade Bow with lots of Curly Ribbons.
Need specific candy or ribbon colors? Optionally list your choices under "Click to request specific Candy/Colors" above. Visit our Candy Choices page to view all candies we carry. Otherwise we will include the ribbon colors shown, and actual candy assortment may vary.
Send your love for Valentine's Day, Anniversary, or "just because", with huggable Heartford today!