Valentine's Day, Anniversary, Love Candy Bear Bouquet Nuts About You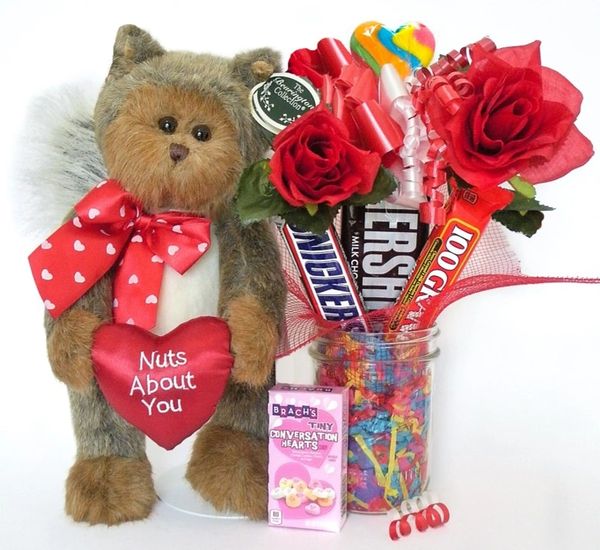 Valentine's Day, Anniversary, Love Candy Bear Bouquet Nuts About You
This Nuts About You Candy Bear Gift Bouquet is great for Anniversary, Valentine's Day, or just to say "I Love You!"  It features our Collectible 13 inch Nuts About You Bearington Bear.  "Nuts" is finely crafted with high quality fur, stitching and details illustrative of the award winning Bearington Bear Collection.  This zany bear wears a grey squirrel outfit complete with pointy squirrel ears and a big fluffy bottlebrush squirrel tail.  He holds a plush red heart stitched with "Nuts About You", and sports a silky red ribbon bow around his neck.  Plus a 16 oz. Ball Glass Mason Jar with a reusable plastic straw - filled with 3 FULL SIZE Popular Candy Bars, plus a Box of Conversation Hearts Candies. Topped with your choice of a yummy Heart Shaped Swirl Lollipop, OR a Hand-Spun "Hammond's" Gourmet Lollipop.  Embellished with our romantic Silk Red Roses, decorative Red Mesh, and a Handmade Bow with lots of Curly Ribbons.
Need specific candy or ribbon colors? Optionally list your choices under "Click to request specific Candy/Colors" above. Visit our Candy Choices page to view all candies we carry. Otherwise we will include the ribbon colors shown, and actual candy assortment may vary.
You would have to be nuts to pass up this Candy Bear Bouquet, for Anniversary, Valentine's Day, or just to say "I Love You!"