Unicorn Candy Bear Bouquet Rainbow Shimmers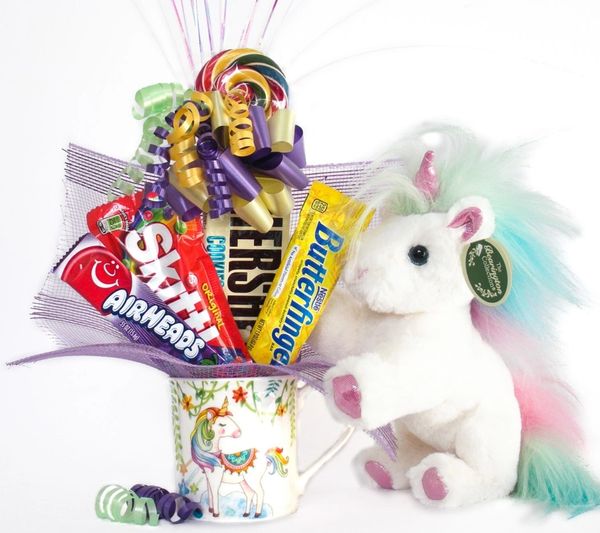 Unicorn Candy Bear Bouquet Rainbow Shimmers
Give someone a magical day, with this Unicorn Candy Gift Bouquet!  It features our Collectible 10 inch Rainbow Shimmers Unicorn Bearington Plush.  Rainbow Shimmers is finely crafted with high quality fur, stitching, materials and attention to detail from the award winning Bearington Bear Collection.  She is super soft with floppy squishy legs, pink shimmery pads on her souls, a pink shimmery unicorn horn, and plenty of rainbow fluff in her mane and tail.  And don't forget those sparkly marble blue eyes!  Plus our High Quality, Whimsical Bone China 11 oz. Unicorn Mug, featuring a sweet unicorn wearing a multi-colored blanket, and green vines and flowers draped around the rim, plus flower accents on the handle - filled with 3 FULL SIZE Popular Candy Bars/Kids Candy, plus a Colorful Sour "Air Heads" Candy Bar.  Topped with a satiny "Hammond's" Hand-Pulled Gourmet Lollipop, and embellished with our festive Iridescent Party Spray, decorative Purple Mesh, and a Handmade Bow with lots of Curly Ribbons.
Need specific candy or ribbon colors? Optionally list your choices under "Click to request specific Candy/Colors" above. Visit our Candy Choices page to view all candies we carry. Otherwise we will include the ribbon colors shown, and actual candy assortment may vary/lollipop flavor may vary. 
This magical Candy Bouquet is great for unicorn lovers, or anyone who loves horses with a shimmery horn!