Unicorn Candy Bear Bouquet Pixy Flippable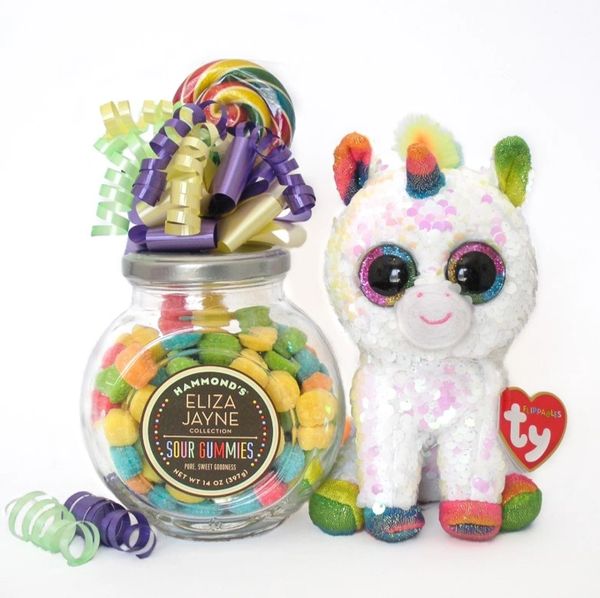 Unicorn Candy Bear Bouquet Pixy Flippable
This Unicorn Candy Gift is a burst of colors!  Featuring our Collectible 7 inch Authentic Ty Pixy "Flippable" Unicorn, with reversible sequins that sparkle with every color in the rainbow.  Pixy is made with the finest quality standards from the Ty collection, with official Ty heart with birthday and poem, "At carnivals I ride the ferris wheel, then play some games and eat a meal!".  She is covered in reversible glittery sequins that catch the light - a quick swipe to the right or left changes her appearance!  And her accents include a glittery, multi-colored unicorn horn, ears and hooves, and a fluffy rainbow mane and tail that match her huge rainbow colored eyes.  Plus our 14 oz. Handmade Gourmet Sour Gummies from the "Hammond's" Candies "Eliza Jayne" collection, in a retro-chic glass jar.  Topped with a satiny "Hammond's" Hand-Pulled Gourmet Lollipop, and embellished with a Handmade Bow with lots of Curly Ribbons.  Optionally add up to 3 full size Popular Candy Bars/Candy Packages, and/or up to 3 full size Gourmet Candy Bars - if added, the included lollipop will be positioned on top of the candy bar(s), as constructed in our other bouquets. 
Need specific ribbon colors, lollipop or candy bars (if added)?  Optionally list your choices under "Click to request specific Colors/Lollipop/Candy Bars (if added)" above. Visit our Candy Choices page to view all candy and lollipops we carry.  Otherwise we will include the ribbon colors shown, and actual lollipop flavor may vary, and candy bars (if added) may vary. 
This colorful unicorn gift is great for any occasion - for unicorn lovers, horse lovers, or anyone who deserves a burst of color!
Featured Products