The Secret Life Of Pets Candy Bear Bouquet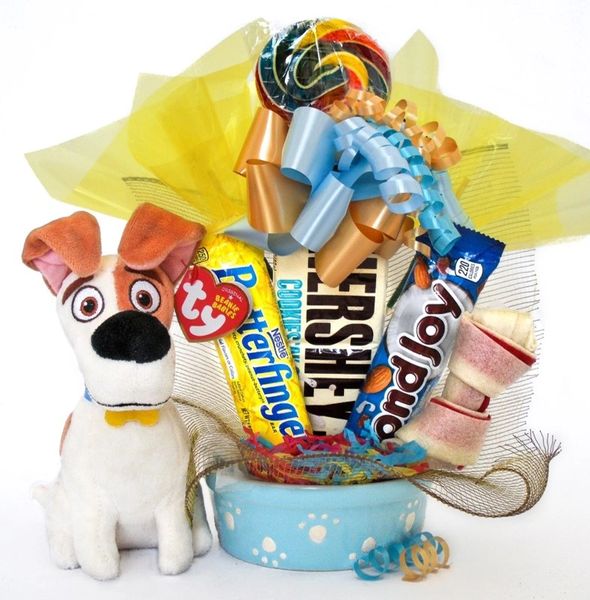 The Secret Life Of Pets Candy Bear Bouquet
This Secret Life of Pets Candy Bear Bouquet has gone to the dogs!  It features our adorable Collectible 8 inch Authentic Ty Beanie Babies Secret Life of Pets Plush.  Your choice of "Max", "Duke", "Buddy" or "Gidget".  These precious pets are made with the highest quality materials and attention to detail, with all the personality of their big screen characters.  Plus our fine Stoneware/Ceramic Dog Food Bowl (perfect for puppy treats) (*actual design/color may vary) - filled with 3 FULL SIZE Popular Candy Bars.  PLUS 1 Rawhide Bone for puppy (flavor will vary), perfect for keeping pets busy while their humans are at work!  Topped with a satiny "Hammond's" Hand-Pulled authentic Lollipop, and embellished with our festive Yellow Cellophanes, decorative Gold Mesh, and a Handmade Bow with lots of Curly Ribbons.
Need specific candy or ribbon colors? Optionally list your choices under "Click to request specific Candy/Colors" above. Visit our Candy Choices page to view all candies we carry. Otherwise we will include the ribbon colors shown, and actual candy assortment may vary/lollipop flavor may vary.
Your pet loving friend (and their pet) will love this Candy Bouquet more than words...and shoes!