Thanksgiving Candy Bear Bouquet Izzy A. Pumpkin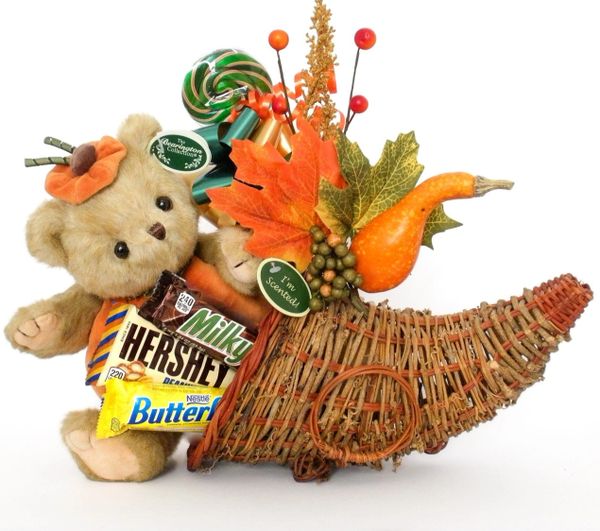 Thanksgiving Candy Bear Bouquet Izzy A. Pumpkin
This Fall Candy Bear Gift Bouquet is a horn of plenty - of sweets!  It features our "Fall-licious" Collectible 10 inch Izzy A. Pumpkin Bearington Bear.  Izzy is finely crafted with the highest quality materials, and intricate details from the award winning Bearington Bear Collection.  He is cleverly disguised as a pumpkin with his plush pumpkin body suit, topped with a plush pumpkin stem top accented with green curly ribbon "branches".  And he is even pumpkin scented!  Plus our lovely 12 inch Hand Woven Cornucopia Basket - filled with 3 FULL SIZE Popular Candy Bars, and topped with a satiny "Hammond's" Hand-Pulled authentic Lollipop.  Embellished with our Fall Harvest Silk Arrangement, and a Handmade Bow with lots of Curly Ribbons.  Optionally add one of our colorful Scarecrows for more fall fun!  Great for Thanksgiving, or anytime!
Need specific candy or ribbon colors? Optionally list your choices under "Click to request specific Candy/Colors" above. Visit our Candy Choices page to view all candies we carry. Otherwise we will include the ribbon colors shown, and actual candy assortment may vary/lollipop flavor may vary.
So Izzy a pumpkin, or Izzy a bear?
Featured Products