Teacher Candy Bear Bouquet Shaggy Bear w/ Teachers Plant the Seeds Mug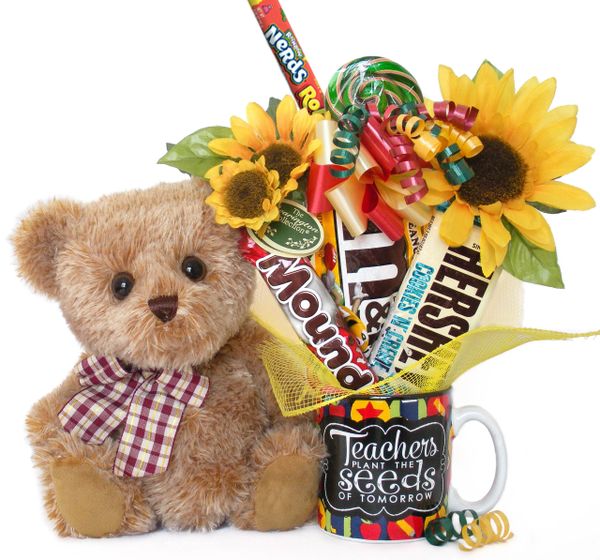 Teacher Candy Bear Bouquet Shaggy Bear w/ Teachers Plant the Seeds Mug
Teachers Plant the Seeds of Tomorrow!  This adorable Teacher Candy Bear Gift Bouquet features our Collectible 12 inch "Shaggy" Bearington Bear.  Shaggy is finely crafted with high quality fur, stitching and attention to detail from the award winning Bearington Bear Collection.  He has super soft, shaggy fur (just like his name), intelligent marble eyes, and wears a studious plaid bow tie.  And don't forget those velvety velour feet!  Plus your choice of our high quality Ceramic Teacher Mugs - 13 oz. "Teachers Plant the Seeds of Tomorrow" Mug decorated with books, apples, pencils and stars all around, OR 13 oz. "2 Teach is 2 Touch Lives 4 Ever" Mug decorated with apples and polka dots all around - filled with 3 FULL SIZE Popular Candy Bars PLUS a 10 inch Nerds Rope, and topped with a satiny "Hammond's" Hand-Pulled authentic Lollipop.  Embellished with our cheerful Sunflower Silk Flowers, decorative Yellow Mesh, and a Handmade Bow with lots of Curly Ribbons.
Need specific candy or ribbon colors? Optionally list your choices under "Click to request specific Candy/Colors" above. Visit our Candy Choices page to view all candies we carry. Otherwise we will include the ribbon colors shown, and actual candy assortment may vary/lollipop flavor may vary.
Tell your favorite teacher she's the "beary" best with this delightful Teacher Candy Bear Bouquet!