Star Wars Candy Bear Bouquet
Star Wars Candy Bear Bouquet
Visit our Add On's page to add Special Occasion Picks, Lollipops, Candy Bars and more extra goodies to your Candy Bear Bouquet!
This Star Wars Candy Bear Gift Bouquet is the sweetest gift in the galaxy! It features your choice from 5 different lovable Star Wars characters, all high quality authentic Disney Star Wars Plush by Comic Images:
Adorable Yoda 7 inch Plush, the most wise jedi master in the galaxy
Wooly Chewbacca 7 inch Plush, everyone's favorite Wookie from the planet Kashyyk
Chilling Darth Vader 7 inch Plush, everyone's favorite dark lord of the sith
Stormtrooper 7 inch Plush, the scariest soldier in the empire
Bone chilling Kylo Ren 7 inch Plush, everyone's favorite villain of the first order
Plus a 32 oz. Ball Glass Mason Jar with a daisy cut lid and reusable plastic straw - filled with 20-25 pieces of assorted popular chocolates and kids candies including authentic Star Wars Gourmet Jelly Belly jelly beans, galactic Pop Rocks and more, plus a decadent "Hammond's" whimsical award winning Gourmet Chocolate Bar. Also your choice of a Classic Star Wars Sticker OR The Force Awakens Sticker, and topped with a yummy Star Shaped Swirl Lollipop. Embellished with a Handmade Bow with lots of Ribbons.
Need specific candies or ribbon colors? Optionally list your choices under "Click to request specific Candies/Colors" above. Visit our Candy Choices page to view all candies we carry. Otherwise the ribbon colors may vary, actual candy assortment may vary/candy bar flavor may vary.
The force is strong with this Star Wars Candy Bear Bouquet!
Featured Products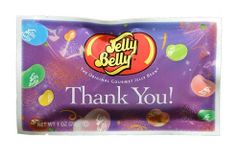 Jelly Belly Thank You Beans - ADD TO CANDY BEAR BOUQUET
$1.49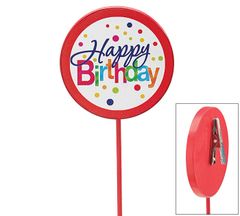 Happy Birthday Dots Wood Pick - ADD TO CANDY BEAR BOUQUET
$2.99