Star Trek Candy Bear Bouquet Captain Kirk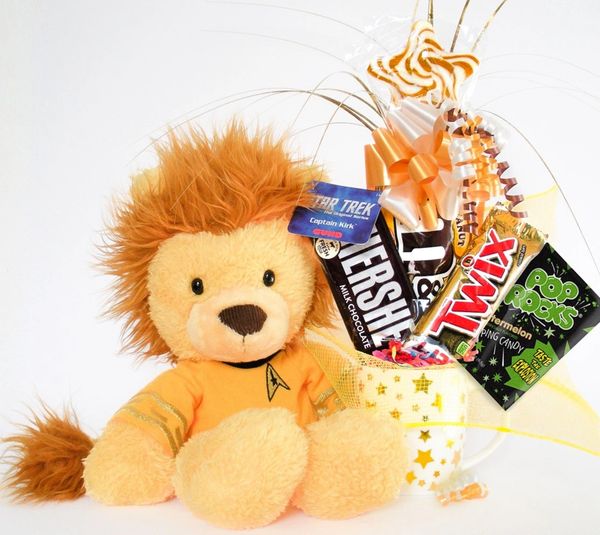 Star Trek Candy Bear Bouquet Captain Kirk
This Star Trek Candy Bear Gift Bouquet is the "final frontier" to softness and sweets!  It features our 13.5 inch super huggable Limited Edition Captain Kirk Plush Lion from GUND.  "Kirk" is an original heirloom collectible crafted with premium materials and high quality huggable plush construction, signature to the GUND award winning collection.  He wears his Captain Kirk costume with a U.S.S. Enterprise emblem stitched-on patch and glittery gold wavy striped sleeves.  Plus our lovely 12 oz. Porcelain Mug decorated with Metallic Gold Stars all around - filled with 3 FULL SIZE Popular Candy Bars PLUS a package of galactic Pop Rocks.  Topped with a yummy Star Shaped Swirl Lollipop, our festive Gold Party Spray, decorative Yellow Mesh, and embellished with a Handmade Bow with lots of Curly Ribbons.
Need specific candy or ribbon colors? Optionally list your choices under "Click to request specific Candy/Colors" above. Visit our Candy Choices page to view all candies we carry. Otherwise the ribbon colors may vary, actual candy assortment may vary.
Beam me up Scotty, this is the sweetest gift in the galaxy!