Smiley Sunshine and Moon Candy Bear Bouquet Philbin Bear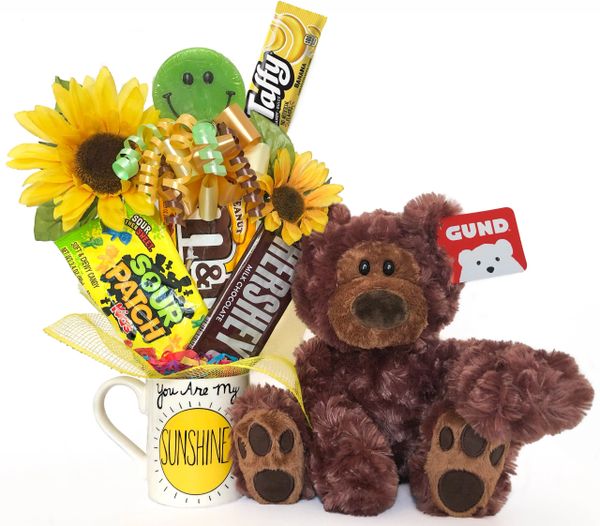 Smiley Sunshine and Moon Candy Bear Bouquet Philbin Bear
Our precious Philbin Candy Bear Bouquet is brighter than the sun, and dreamier than the moon!  Featuring our loveable Collectible 12 inch Philbin Bear from the award winning GUND collection.  Philbin is made with high quality soft, huggable material that meets famous GUND quality standards.  He is squishably soft with wavy chocolatey fur, adorable paw pad accents, and a cute curious expression that's impossible not to love!  Plus our Designer Ceramic Sunshine Moon Mugs by Lorrie Veasey © from the fine Our Name Is Mud collection, choose "You Are My Sunshine" OR "Love You To The Moon and Back" - filled with 3 FULL SIZE Popular Candy Bars PLUS 1 FULL SIZE Laffy Taffy Bar, and topped with a cheerful Smiley Tutti-Frutti Lollipop.  Embellished with our lovely yellow Silk Sunflowers, decorative Yellow Mesh, and a Handmade Bow with lots of Curly Ribbons.
Need specific candy or ribbon colors? Optionally list your choices under "Click to request specific Candy/Colors" above. Visit our Candy Choices page to view all candies we carry. Otherwise we will include the ribbon colors shown, and actual candy assortment may vary.
Send some big smiles, big paws, and big bear hugs with this Smiley Sunshine and Moon Philbin Candy Bear Bouquet!