Religious Candy Bear Bouquet Peter Praysmore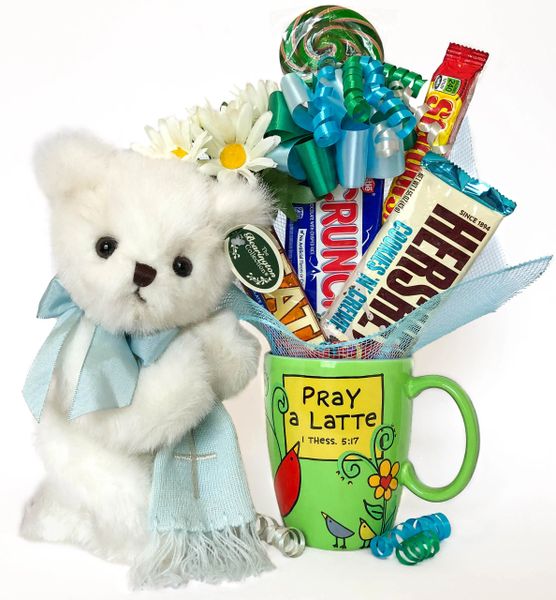 Religious Candy Bear Bouquet Peter Praysmore
Send some sweet inspiration with our precious Peter Praysmore Religious Candy Bear Gift Bouquet!  Featuring our Collectible 10 inch Peter Praysmore Bearington Bear from the award winning Bearington Bear collection.  Peter is bendable at the shoulder and hip joints, finely crafted with high quality materials and intricate details signature to the Bearington Bear quality standards.  He is perfectly sincere while posed in a sweet praying position, and wears a silky pastel blue bow, and a soft knitted scarf with a stitched silver cross and frilly tassels.  And don't forget those soulful marble eyes!  Plus our 16 oz. High Quality Stoneware "Pray a Latte" Mug from the fine Our Name Is Mud collection, with message "Pray a Latte, 1 Thess. 5:17" and animated birds and heart flower illustrations all around.  Filled with 3 FULL SIZE Popular Candy Bars PLUS 1 FULL SIZE Package of Starburst Fruit Chews, and topped with a "Hammond's" Hand-Spun Gourmet Lollipop.  Embellished with our lovely Silk White Daisies, decorative Blue Mesh, and a Handmade Bow with lots of Curly Ribbons.

Need specific candy or ribbon colors? Optionally list your choices under "Click to request specific Candy/Colors" above. Visit our Candy Choices page to view all candies we carry. Otherwise we will include the ribbon colors shown, and actual candy assortment may vary/lollipop flavor may vary.
This inspirational Candy Bouquet is a great gift for First Communion, Confirmation, Baptism, Christening, or any faith filled occasion - sure to brighten anyone's soul and taste buds!