Pusheen the Cat Candy Bear Bouquet
Pusheen the Cat Candy Bear Bouquet
Visit our Add On's page to add Special Occasion Picks, Lollipops, Candy Bars and more extra goodies to your Candy Bear Bouquet!
This Pusheen the Cat Candy Gift Bouquet is purr-fect for cat lovers! It features our Super Soft High Quality GUND Pusheen the Cat 6 inch Plush. Pusheen is an heirloom collectible GUND plush, crafted with top quality materials signature to the award winning GUND collection. She is pastel green with pink stripes in all the right places, cute little purple eyes, nose and whiskers, and a sweet purple heart on her side. Pusheen brings brightness and chuckles to millions of followers in her rapidly growing online fan base. Plus your choice of our authentic 16 oz. (9 inches high) Pusheen Tumbler with removable secure dome lid and removable plastic straw, with message "I like to drink with a straw and pretend I'm a tiny elephant" - OR a 32 oz. Ball Glass Mason Jar with a daisy cut lid and reusable plastic straw. The Tumbler or Mason Jar is filled with 20-25 pieces of popular chocolates/extra Kit Kats, plus a decadent "Hammond's" award winning Gourmet Chocolate Bar. Topped with a satiny "Hammond's" Hand-Pulled authentic Lollipop, and embellished with a Handmade Paw Print Bow and lots of Curly Ribbons.
Need specific candies or ribbon colors? Optionally list your choices under "Click to request specific Candies/Colors" above. Visit our Candy Choices page to view all candies we carry. Otherwise we will include the ribbon colors shown, and actual candy assortment may vary/lollipop and candy bar flavors may vary.

Featured Products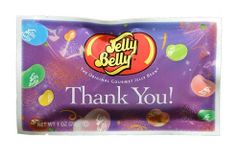 Jelly Belly Thank You Beans - ADD TO CANDY BEAR BOUQUET
$1.49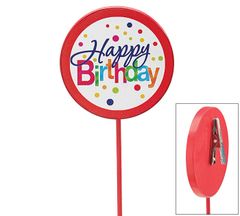 Happy Birthday Dots Wood Pick - ADD TO CANDY BEAR BOUQUET
$2.99