Pusheen Pusheenosaurus Candy Bear Bouquet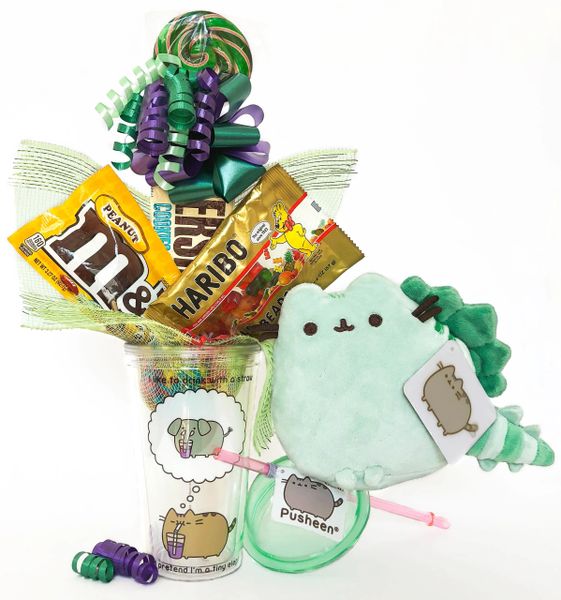 Pusheen Pusheenosaurus Candy Bear Bouquet
What do you get when you cross a dinosaur with Pusheen?  A Pusheenosaurus, of course!  This adorable Pusheenosaurus Pusheen Candy Gift Bouquet features our 6.5 inch Pusheenosaurus Plush from the award winning GUND collection.  This prehistoric plush features Pusheen as a friendly green dinosaur with spikey plush scales down her back, a spikey striped tail, and her sweet signature smile. Inspired by the hugely popular Pusheen the cat web comic, Pusheenosaurus is an heirloom collectible GUND plush, crafted with top quality materials that meet famous GUND quality standards.  Plus your choice of our authentic 16 oz. (9 inches high) Pusheen Tumbler with removable secure dome lid and removable plastic straw, with message "I like to drink with a straw and pretend I'm a tiny elephant" - OR a 16 oz. Ball Glass Mason Jar w/ reusable plastic straw.  The Tumbler or Mason Jar is filled with 3 FULL SIZE Popular Candy Bars/Kids Candy Packages, and topped with a satiny "Hammond's" Hand-Pulled authentic Lollipop.  Embellished with a Handmade Bow, decorative Green Mesh, and lots of Curly Ribbons.
Need specific candy or ribbon colors? Optionally list your choices under "Click to request specific Candy/Colors" above. Visit our Candy Choices page to view all candies we carry. Otherwise we will include the ribbon colors shown, and actual candy assortment may vary/lollipop flavor may vary.
Send this Pusheenosaurus gift to your favorite Pusheen collector or dino fan!