Pirate Candy Bear Bouquet Itty Bitty Boo
Pirate Candy Bear Bouquet Itty Bitty Boo
Visit our Add On's page to add Special Occasion Picks, Lollipops, Candy Bars and more extra goodies to your Candy Bear Bouquet!
They will walk the plank for this Itty Bitty Boo Pirate Candy Bear Gift Bouquet! It features our Heirloom Collectible 5 inch GUND high quality plush, "Itty Bitty Boo", known as the Pomeranian Internet Sensation. This puppy dog pirate wears an adorable pirate costume complete with a soft stretchy cotton black and red striped pirate bandana, and a starched cotton pirate hat adorned with a skull and crossbones. Plus your choice of our 32 oz. Ball glass Mason Jar with a daisy cut lid and reusable plastic straw, OR our 5 x 3.4 x 3.5 inch Wood Treasure Chest with metal hinges and closing latch - filled with 20-25 pieces of assorted popular chocolates/kids candies mixed with fun Plastic Gold Pirate Coins, and a decadent "Hammond's" whimsical award winning Gourmet Chocolate Bar. Topped with a fun Pirate Lollipop, and embellished with a Handmade Bow with lots of Ribbons. Eat up me hearties!
Need specific candies or ribbon colors? Optionally list your choices under "Click to request specific Candies/Colors" above. Visit our Candy Choices page to view all candies we carry. Otherwise we will include the ribbon colors shown, and actual candy assortment may vary/candy bar flavor may vary.
Hardy Har Har!

Featured Products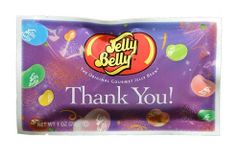 Jelly Belly Thank You Beans - ADD TO CANDY BEAR BOUQUET
$1.49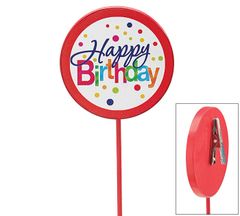 Happy Birthday Dots Wood Pick - ADD TO CANDY BEAR BOUQUET
$2.99