Peppa Pig Candy Bear Bouquet
Peppa Pig Candy Bear Bouquet
Visit our Add On's page to add Special Occasion Picks, Lollipops, Candy Bars and more extra goodies to your Candy Bear Bouquet!
This *Snort* adorable Peppa Pig Candy Bear Gift Bouquet *Snort* is the best thing since muddy puddles! *Snort!* It features our adorable Collectible 8 inch Authentic Ty Beanie Babies Peppa Pig Plush. This iconic plush is handmade with the highest quality standards in the industry. Peppa has all the details of her beloved British preschool animated character, from her cute little piggy ears, rosy cheeks, flouncy red dress, curly piggy tail, and her favorite toy, "Teddy". Plus our whimsical 7 inch high rubber and leather Pig Rain Boot (perfect for stomping in muddy puddles), complete with a piggy tail, piggy ears, a piggy nose on the toe, and an "Oink" message printed all around the top rim - filled with 20-25 pieces of assorted popular chocolates and kids candies, plus a satiny "Hammond's" Hand-Pulled authentic Lollipop, and a decadent "Hammond's" award winning Gourmet Chocolate Bar. Embellished with a Handmade Bow with lots of Ribbons, plus our colorful Silk Wildflowers.
Need specific candies or ribbon colors? Optionally list your choices under "Click to request specific Candies/Colors" above. Visit our Candy Choices page to view all candies we carry. Otherwise we will include the ribbon colors shown, and actual candy assortment may vary/lollipop and candy bar flavors may vary.

Featured Products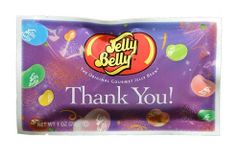 Jelly Belly Thank You Beans - ADD TO CANDY BEAR BOUQUET
$1.49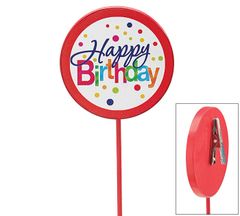 Happy Birthday Dots Wood Pick - ADD TO CANDY BEAR BOUQUET
$2.99