Nurse Candy Bear Bouquet Socks Stripes Sock Monkey w/ Hand Painted/Embossed Mug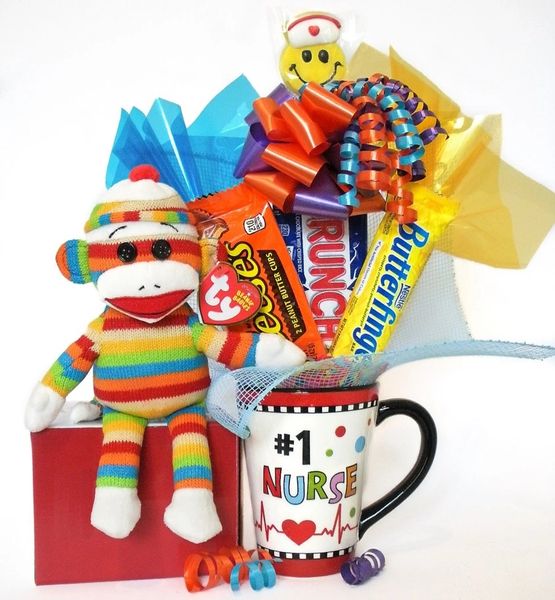 Nurse Candy Bear Bouquet Socks Stripes Sock Monkey w/ Hand Painted/Embossed Mug
Honor your favorite nurse with this classic Sock Monkey Nurse Candy Bouquet!  It features our Collectible 8.5 inch Authentic Limited Edition Ty "Socks Stripes" the Sock Monkey Plush.  Made with the highest quality materials, "Socks Stripes" is constructed with super soft "sock" material with rainbow stripes and intricate accents.  He has real black buttons for eyes, and wears a rainbow beanie hat, topped with a red pom pom that matches his luscious red lips.  Plus our ornate 12 oz. Hand Painted/Raised Ceramic Nurse Mug w/ Embossed Design, "#1 Nurse" on front, and first aid kit, scrubs, stethoscope and band aids on back, and a heart pulse all around.  Filled with 3 FULL SIZE Popular Candy Bars, and topped with our fun Nurse Lollipop.  Embellished with our festive orange and blue Cellophanes, decorative Blue Mesh, and a Handmade Bow with lots of Curly Ribbons.
Need specific candy or ribbon colors? Optionally list your choices under "Click to request specific Candy/Colors" above. Visit our Candy Choices page to view all candies we carry. Otherwise we will include the ribbon colors shown, and actual candy assortment may vary.
This classic sock monkey Candy Bear Bouquet is just what the nurse ordered!