Nurse Candy Bear Bouquet Socks Stripes Sock Monkey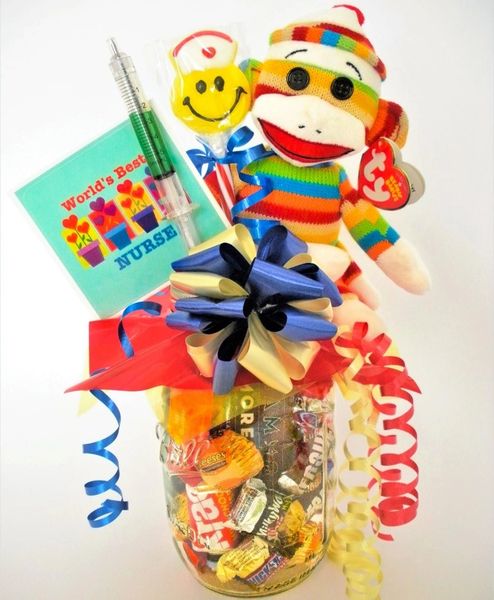 Nurse Candy Bear Bouquet Socks Stripes Sock Monkey
Visit our Add On's page to add Special Occasion Picks, Lollipops, Candy Bars and more extra goodies to your Candy Bear Bouquet!
This "Socks Stripes" the Sock Monkey Nurse Candy Bear Gift Bouquet is a classic way to thank your favorite nurse! It features our Collectible 8.5 inch Authentic Ty "Socks Stripes" the Sock Monkey Plush. Made with the highest quality materials, "Socks Stripes" is constructed with super soft "sock" material with rainbow stripes and intricate accents. He has real black buttons for eyes, and wears a rainbow beanie hat, topped with a red pom pom that matches his luscious red lips. His Ty card says, "My knit body I would never trade, Because it has colors of every shade, Just like a rainbow full of joy, Sure to bring a smile to girl or boy!" Plus a 32 oz. Ball Glass Mason Jar with a daisy cut lid and reusable plastic straw, filled with 20-25 pieces of assorted popular chocolates/candy, and topped with our fun Nurse Lollipop, and a decadent "Hammond's" award winning Gourmet Chocolate Bar. Embellished with a colorful 3 inch "World's Best Nurse" Sticker from Zazzle, a fun "Syringe" Pen (color may vary), and a Handmade Bow.
Need specific candies or ribbon colors? Optionally list your choices under "Click to request specific Candies/Colors" above. Visit our Candy Choices page to view all candies we carry. Otherwise we will include the ribbon colors shown, and actual candy assortment may vary/candy bar flavor may vary.
This classic sock monkey Candy Bear Bouquet is just what the nurse ordered!
Featured Products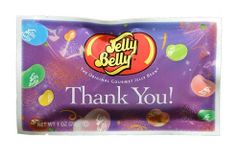 Jelly Belly Thank You Beans - ADD TO CANDY BEAR BOUQUET
$1.49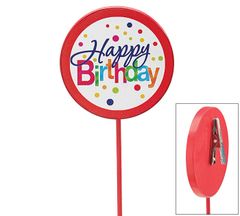 Happy Birthday Dots Wood Pick - ADD TO CANDY BEAR BOUQUET
$2.99