Nurse Candy Bear Bouquet Socks Sock Monkey w/ Porcelain Messaged Mug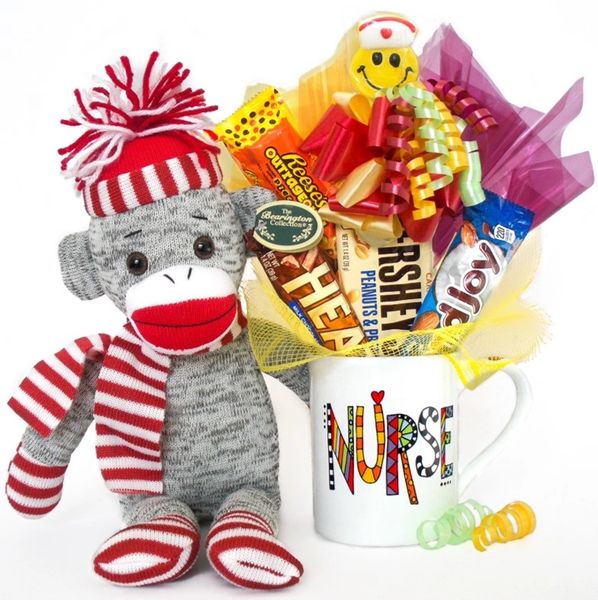 Nurse Candy Bear Bouquet Socks Sock Monkey w/ Porcelain Messaged Mug
Send a classic hug to your favorite nurse with this retro Sock Monkey Nurse Candy Bouquet!  It features our Heirloom 16 inch "Socks" the Sock Monkey Plush, from the award winning Bearington Collection.  Socks is finely constructed with high quality materials and attention to detail, made of super soft grey "sock" material, with bright marble eyes, stitched mouth and face details, and a cute white-tipped monkey tail.  He wears a fluffy red and white pom pom topped hat, and a red and white striped scarf that perfectly match his luscious red lips!  Plus our 16 oz. high quality Porcelain "Nicest Nurse" Mug from the Our Name is Mud collection, with heartfelt messaging/illustrations on the front, back, rim and handle.  Front has whimsical illustrated "Nurse" art lettering, back reads "Thank You For Your Kindness, Caring, and of Course, Patients!", rim reads "You're the Nicest", and the handle is decorated with a lovely red heart.  Filled with 3 FULL SIZE Popular Candy Bars, Plus 1 Reese's FULL SIZE Candy Bar, and topped with our fun Nurse Lollipop.  *NOTE:  During warmer months, the extra Reese's Bar will be substituted with a non-chocolate full size candy.  Embellished with our festive orange and purple Cellophanes, decorative Yellow Mesh, and a Handmade Bow with lots of Curly Ribbons.
Need specific candy or ribbon colors? Optionally list your choices under "Click to request specific Candy/Colors" above. Visit our Candy Choices page to view all candies we carry. Otherwise we will include the ribbon colors shown, and actual candy assortment may vary.
This classic sock monkey Nurse Candy Bouquet is just what the nurse ordered!