My Little Pony Candy Bear Bouquet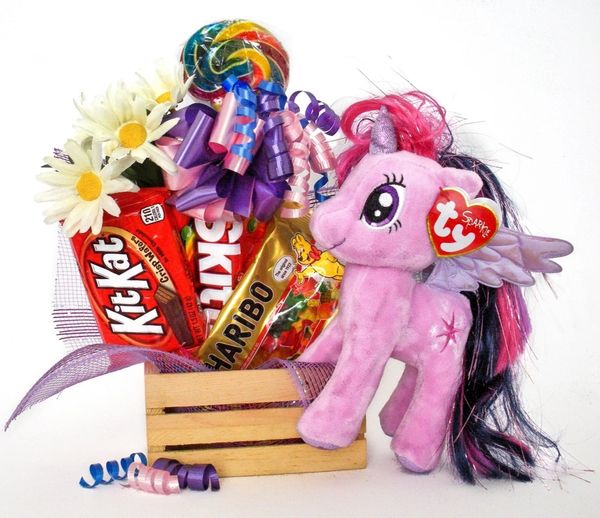 My Little Pony Candy Bear Bouquet
Gallop into your horse lover's heart with this My Little Pony Candy Bear Gift Bouquet!  It features our adorable Collectible 8 inch Authentic Ty Beanie Babies My Little Pony Plush.  Your choice of "Twilight Sparkle", "Rainbow Dash", "Apple Jack", "Rarity" or "Princess Luna".  Each of these "fashionista" ponies are made with the highest quality materials, with silky long flowing manes and tails and big, bright sparkly eyes.  Plus our Real Wood Crate (perfect for storing horse treats), filled with 3 FULL SIZE Popular Candy Bars/Kids Candy, plus a satiny "Hammond's" Hand-Pulled authentic Lollipop.  Embellished with a Handmade Bow with lots of Curly Ribbons, decorative Mesh, plus our Silk White Daisies (careful, the pony may eat them!).
Need specific candy or ribbon colors? Optionally list your choices under "Click to request specific Candy/Colors" above. Visit our Candy Choices page to view all candies we carry. Otherwise we will include the ribbon colors shown, and actual candy assortment may vary/lollipop flavor may vary.
Friendship is always Magic with this My Little Pony Candy Bear Bouquet!