Mother's Day | Grandparents Day Candy Bear Bouquet Mommy Tenderheart
Mother's Day | Grandparents Day Candy Bear Bouquet Mommy Tenderheart
Visit our Add On's page to add Special Occasion Picks, Lollipops, Candy Bars and more extra goodies to your Candy Bear Bouquet!
This Mommy Tenderheart Candy Bear Gift Bouquet "bears" the sweetest gifts of all, for Mother's Day, Grandparents Day or anytime! It features our precious Collectible 10 inch Mommy Tenderheart Bearington Bear. Mommy is finely crafted with high quality fur, stitching and details illustrative of the award winning Bearington Bear Collection. She has super soft white fur, and she wears a lovely plush pink Bonnet adorned with a leafy peach-pink silk rose. Mommy also wears a silky pink ribbon bow around her neck, and she holds a plush pink heart intricately stitched with delicate raised flowers and "Mom". Plus our 5" Butterfly Embossed Tin (colors vary based on availability) filled with 20-25 pieces of assorted popular chocolates/candy, topped with a satiny "Hammond's" Hand-Pulled authentic Lollipop, and a decadent "Hammond's" award winning Gourmet Chocolate Bar. Embellished with our flowery "Mom" Wooden Pick, our colorful Silk Zinnia Flower, and a Handmade Bow.
Need specific candies or ribbon colors? Optionally list your choices under "Click to request specific Candies/Colors" above. Visit our Candy Choices page to view all candies we carry. Otherwise we will include the ribbon colors shown, and actual candy assortment may vary/lollipop and candy bar flavors may vary.

Featured Products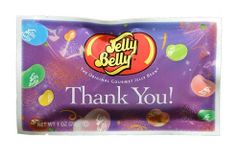 Jelly Belly Thank You Beans - ADD TO CANDY BEAR BOUQUET
$1.49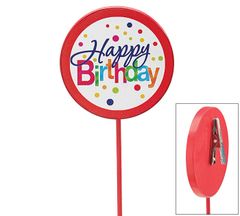 Happy Birthday Dots Wood Pick - ADD TO CANDY BEAR BOUQUET
$2.99