Minnie Mouse Cheerleader Candy Bear Bouquet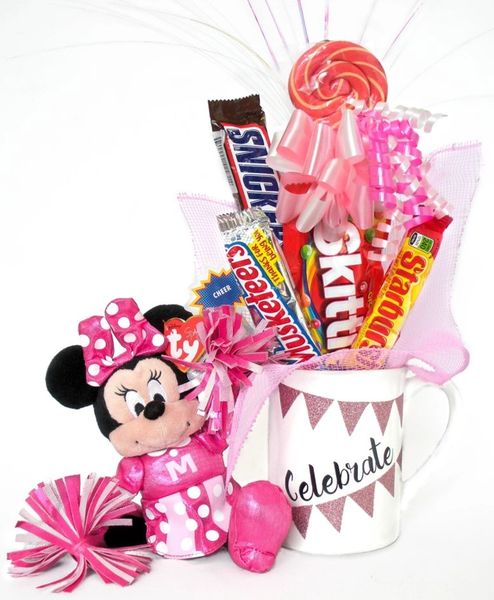 Minnie Mouse Cheerleader Candy Bear Bouquet
Cheer down the house with classic Minnie Mouse!  Featuring our 8 inch Authentic Collectible Limited Edition Ty Beanie Baby Minnie Mouse Cheerleader Plush, celebrate cheerleading, congratulations, happy new year, happy birthday, or any happy occasion!  Minnie is handmade with the finest quality standards in the industry.  She is intricately dressed in her flouncy pink cheerleader outfit, with a pleated polka dot skirt, textured super sparkle accents, a polka dot bow, and a pink "M" on her chest.  Plus bright silver and pink pom poms!  Plus our 16 oz. High Quality Stoneware "Celebrate Glitter" Mug with Pink Glitter Flag Accents by Our Name Is Mud - Messaging reads "Celebrate" on the front, "Glitter Is My Favorite Color" on the back, and multi-colored stars on the inside.  Filled with 3 FULL SIZE Popular Candy Bars/Kids Candy, plus 1 Extra FULL SIZE Snickers Bar, and 4 "CHEER" Stickers!  *NOTE:  During warmer months, the extra Snickers bar will be substituted with a non-chocolate full size candy.   Topped with a "Hammond's" Hand-Pulled authentic Lollipop, our festive Iridescent Party Spray, decorative Pink Mesh, and a Handmade Bow with lots of Curly Ribbons.  Choose the optional "Sweet 16 Lollipop" for a Sweet Sixteen Birthday!  
Need specific candy or school ribbon colors? Optionally list your choices under "Click to request specific Candy/Colors" above. Visit our Candy Choices page to view all candies we carry. Otherwise we will include the ribbon colors shown, and actual candy assortment/lollipop flavor may vary.
Give me an "M" for Minnie Mouse Cheer Leader!