Hello Kitty Candy Bear Bouquet
Hello Kitty Candy Bear Bouquet
Visit our Add On's page to add Special Occasion Picks, Lollipops, Candy Bars and more extra goodies to your Candy Bear Bouquet!
This Hello Kitty Candy Bear Gift Bouquet features Hello Kitty dressed in confetti and lollipops! It features our Collectible 6 inch Authentic Ty Beanie Baby Hello Kitty Plush w/ Lollipop. Kitty is handmade with the finest quality standards in the industry. She wears a flouncy white dress with pink, purple, green and blue confetti, and holds her deliciously soft pink swirl lollipop. Her Ty tag says, "You can never have too many friends!" OR your choice of Hello Kitty Rainbow Leopard Nerd, OR Hello Kitty Ballet Ballerina - perfect for the dance recital! Plus a 32 oz. Ball Glass Mason Jar with a daisy cut lid and reusable plastic straw - filled with 20-25 pieces of assorted popular chocolates and kids candies, a decadent "Hammond's" whimsical award winning Gourmet Chocolate Bar, and a Hello Kitty Pez Candy and Dispenser! (Character varies based on availability.) Topped with a satiny "Hammond's" Hand-Pulled authentic Lollipop (so Kitty can keep her lollipop), and embellished with a fun Hello Kitty Party Blowout. Choose the optional "Sweet 16 Lollipop" for a Sweet 16 Birthday!
Need specific candies or ribbon colors? Optionally list your choices under "Click to request specific Candies/Colors" above. Visit our Candy Choices page to view all candies we carry. Otherwise we will include the ribbon colors shown, and actual candy assortment may vary/lollipop and candy bar flavors may vary.

Featured Products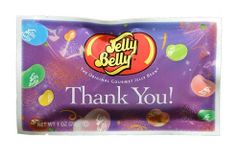 Jelly Belly Thank You Beans - ADD TO CANDY BEAR BOUQUET
$1.49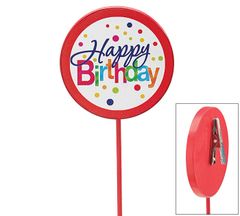 Happy Birthday Dots Wood Pick - ADD TO CANDY BEAR BOUQUET
$2.99