Harry Potter Candy Bear Bouquet Little Powder Owl w/ Harry Potter Character Mug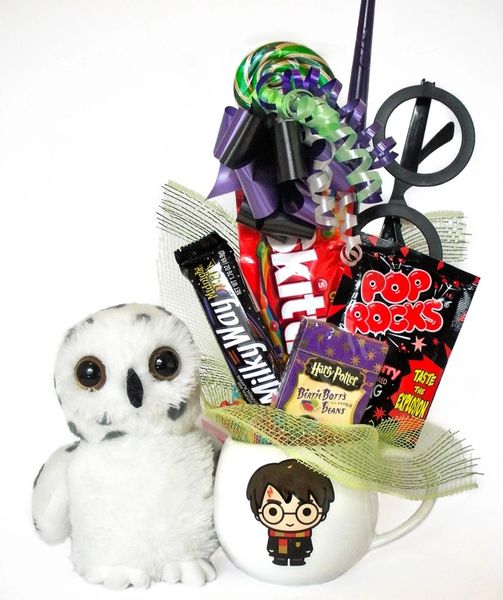 Harry Potter Candy Bear Bouquet Little Powder Owl w/ Harry Potter Character Mug
This Wonderful Harry Potter Candy Bear Gift Bouquet is loaded with Harry Potter goodies!  It features our super soft and cuddly 8 inch Little Powder Owl by Aurora.  Aurora stuffed animals are incredibly well made with a focus on durability, safety, and most importantly, cuteness.  This snowy owl has soft white plush fur with grey accents, big dreamy marble eyes, and a bean weighted, soft body.  Plus our high quality 14 oz. Harry Potter Sculpted/Raised Stoneware Mug from the fine Our Name Is Mud Collection, featuring Harry on one side, and authentic "Harry Potter" logo word art on the other side - filled with 3 FULL SIZE Popular Kids Candies including Pop Rocks, PLUS a box of the famous Bertie Botts Beans by Jelly Belly.  And topped with a satiny "Hammond's" Hand-Pulled authentic Lollipop, a fun set of Harry Potter Glasses, and a Wizard Wand!  Embellished with our Handmade Bow, decorative Green Mesh, and lots of Curly Ribbons. 
Need specific candy or ribbon colors? Optionally list your choices under "Click to request specific Candy/Colors" above. Visit our Candy Choices page to view all candies we carry. Otherwise we will include the ribbon colors shown, and actual candy assortment may vary/lollipop flavor may vary.
Just say, "Wingardium Leviosa", and this Harry Potter Candy Bear Bouquet will fly to someone sweet!