Halloween Candy Bear Bouquet Scream Ghost
Halloween Candy Bear Bouquet Scream Ghost
Visit our Add On's page to add Special Occasion Picks, Lollipops, Candy Bars and more extra goodies to your Candy Bear Bouquet!
This Ghostly Halloween Candy Bear Gift Bouquet is so soft and sweet, it's scary!  It features our Collectible 6 inch "Scream" authentic Ty Plush from the famous Ty Beanie Boo's Collection.  Made with the highest quality materials and craftsmanship in the industry, this super soft ghost has beautiful gold eyes and a sweet smile with 2 candycorn teeth, and holds a sparkly orange plush pumpkin.  His tag reads, "You should be frightened when I scream, 'cause being a ghost is my favorite dream!"  Plus your choice of our spooktacular 5 x 5 inch Glass Jack-O-Lantern Candle Holder w/ Iron Handle, OR our 4.7 x 5.5 inch Glass Skull Candy Dish - filled with 20-25 pieces of assorted popular chocolates/Halloween themed candy, and topped with a satiny "Hammond's" Hand-Pulled authentic Lollipop, and a decadent "Hammond's" whimsical award winning Gourmet Chocolate Bar.  Embellished with our scary Jack-O-Lantern Spiral Straw, our festive Orange and Black Mylar Pom Poms, a fun "Happy Halloween" pick, and a Handmade Bow with lots of Ribbons.
Need specific candies or ribbon colors? Optionally list your choices under "Click to request specific Candies/Colors" above. Visit our Candy Choices page to view all candies we carry. Otherwise we will include the ribbon colors shown, and actual candy assortment may vary/lollipop and candy bar flavors may vary.
Featured Products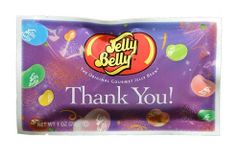 Jelly Belly Thank You Beans - ADD TO CANDY BEAR BOUQUET
$1.49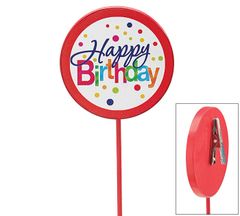 Happy Birthday Dots Wood Pick - ADD TO CANDY BEAR BOUQUET
$2.99