Halloween Candy Bear Bouquet Scooby Doo and Shaggy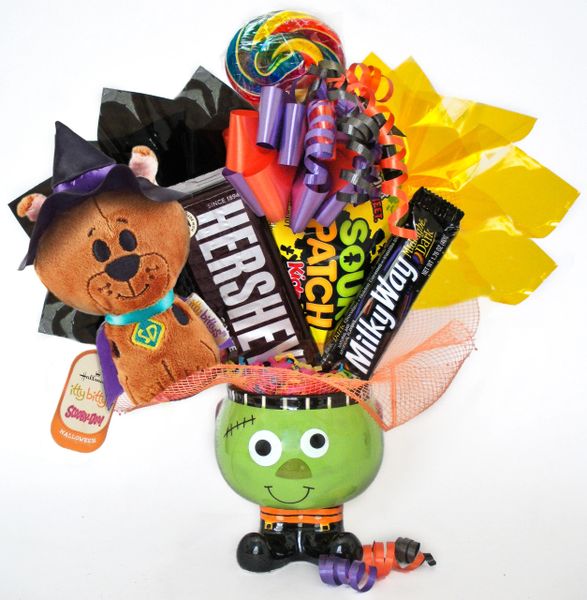 Halloween Candy Bear Bouquet Scooby Doo and Shaggy
Visit our Specials page for seasonal extras which may be added to this bouquet!

It's definitely time for a Scooby Snack with this Scooby Doo Halloween Candy Bear Gift Bouquet!  It features your choice from our Collectible 4 inch limited edition Scooby Doo OR Shaggy Halloween Bean Weighted "itty bitty" Plush from Hallmark.  Scooby is scarier than ever with his silk black/purple rimmed witch hat and soft felt purple cape, OR Shaggy is dressed to kill with his vampire teeth and soft felt black vampire cape with purple collar (in addition to his traditional five-o-clock shadow goatee).  Plus our spooktacular 4 3/4 inch Hand Painted Ceramic Halloween Footed Planter - your choice from Frankenstein Ghoul, Jack-O-Lantern or Scary Black Kitty - filled with 3 FULL SIZE Popular Candy Bars/Kids Candy and topped with a satiny "Hammond's" Hand-Pulled authentic Lollipop.  Embellished with our festive black and orange Cellophanes, decorative Orange Mesh, and a Handmade Bow with lots of Curly Ribbons.
Need specific candy or ribbon colors? Optionally list your choices under "Click to request specific Candy/Colors" above. Visit our Candy Choices page to view all candies we carry. Otherwise we will include the ribbon colors shown, and actual candy assortment may vary/lollipop flavor may vary.
Ruh-roh!  This Halloween Candy Bear Bouquet is "like" the "grooviest"!