Halloween Candy Bear Bouquet Morty Mummy w/ Ombre Glass Skull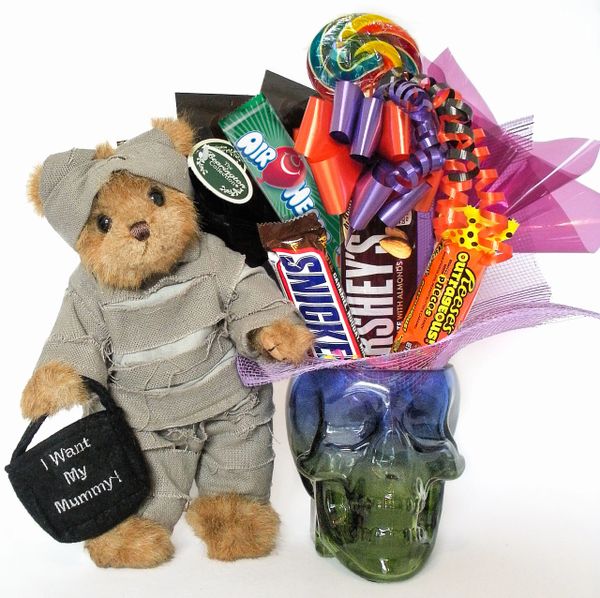 Halloween Candy Bear Bouquet Morty Mummy w/ Ombre Glass Skull
Visit our Specials page for seasonal extras which may be added to this bouquet!

This Morty Mummy Halloween Candy Bear Gift Bouquet is full of graveyard goodies!  It features our Collectible Limited Edition 10 inch Morty Mummy Bearington Bear.  Morty is finely crafted with the highest quality fur, stitching, materials and attention to detail, from the award winning Bearington Bear Collection.  He is dressed in his graveyard best with his layered grey cotton mummy suit, and his thick felt bag hand stitched with "I Want My Mummy!"  Since Morty retired in 2020, he is a highly limited collectible continually appreciating in value.  Plus our frightful 4.7 x 5.5 inch Glass Skull Candy Dish in deep shades of purple-blue and green, filled with 3 FULL SIZE Popular Candy Bars plus 1 Extra Air Heads Bar, and topped with a satiny "Hammond's" Hand-Pulled authentic Lollipop.  Embellished with our festive Black and Purple Cellophanes, decorative Purple Mesh, and a Handmade Bow with lots of Curly Ribbons.  
Need specific candy or ribbon colors? Optionally list your choices under "Click to request specific Candy/Colors" above. Visit our Candy Choices page to view all candies we carry. Otherwise we will include the ribbon colors shown, and actual candy assortment may vary/lollipop flavor may vary.
Send this Halloween Bear "Boo"quet to your favorite "ghoul"friends!