Gourmet Candy Bear Bouquet Huggles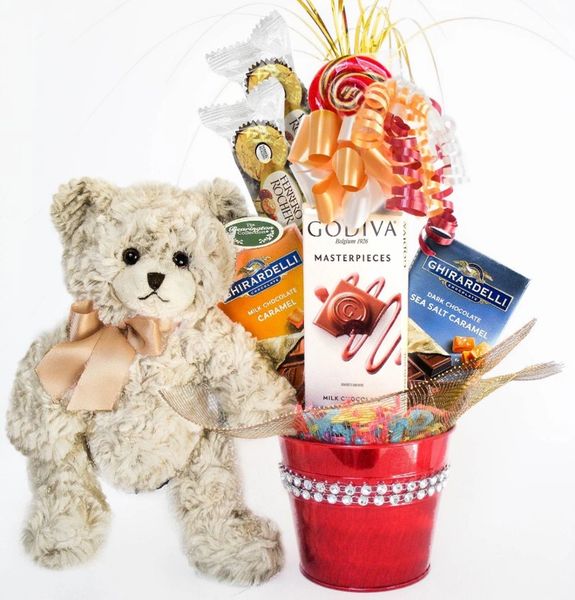 Gourmet Candy Bear Bouquet Huggles
This Huggles Gourmet Candy Bear Gift Bouquet is a gourmet chocolate lover's dream!  It features our curly haired Collectible 11 inch Huggles Bearington Bear.  Huggles is our fanciest bear!  He is finely crafted with high quality fur, stitching and details illustrative of the award winning Bearington Bear Collection, with his wavy dreamy-creamy soft fur and his fancy gold silky ribbon bow.  Plus our 4 inch high Flashy Tin Pot with a Rhinestone Band - choose from Red, Gold or Silver - filled with 3 FULL SIZE Gourmet Chocolate Bars including Godiva/Ghirardelli/Lindor (assortment may vary), PLUS 2 Packs of Ferrero Rocher Truffles.  Topped with a satiny "Hammond's" Hand-Pulled Gourmet Lollipop.  Embellished with our fancy Gold Foil Spray, decorative Gold Mesh, and a Handmade Bow with lots of Curly Ribbons.
Need specific candy or ribbon colors? Optionally list your choices under "Click to request specific Candy/Colors" above. Visit our Candy Choices page to view all candies we carry. Otherwise we will include the ribbon colors shown, and actual candy assortment may vary/lollipop flavor may vary.

Send this fancy Gourmet Candy Bouquet, when only the best will do!