Golf Candy Bear Bouquet Lil Snugs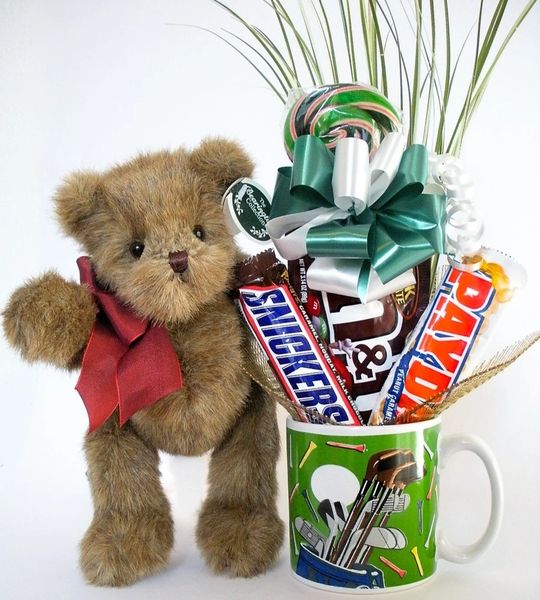 Golf Candy Bear Bouquet Lil Snugs
This Lil Snugs Golf Candy Bear Gift Bouquet is way above par!  Great for any occasion, it features our Limited Edition 11.5 inch Collectible Lil Snugs Bearington Bear.  Lil Snugs is finely crafted with high quality fur, stitching and details illustrative of the award winning Bearington Bear Colleciton.  He has super soft light brown highlighted fur, and he is dressed for the golf course with his handsome silky maroon ribbon bow.  Since Lil Snugs was retired in 2018, he is a highly limited collectible continually appreciating in value.  Plus our Fine Ceramic 13 oz. Golf Mug filled with 3 FULL SIZE Popular Candy Bars, and topped with a satiny "Hammond's" Hand-Pulled authentic Lollipop.  Embellished with our lovely Silk Grass Greenery (as green as the golf terrain), decorative Moss colored Mesh, and a Handmade Bow with lots of Curly Ribbons.
Need specific candy or ribbon colors? Optionally list your choices under "Click to request specific Candy/Colors" above. Visit our Candy Choices page to view all candy we carry. Otherwise we will include the ribbon colors shown, and actual candy assortment may vary/lollipop flavor may vary.

So holler, "Four!"  And ship this golf Candy Bear Bouquet to the golf lover in your life!