Finding Nemo Candy Bear Bouquet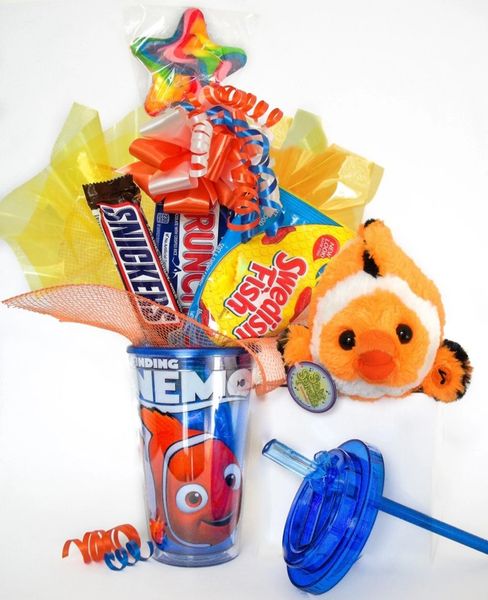 Finding Nemo Candy Bear Bouquet
This Finding Nemo Candy Bear Gift Bouquet is the sweetest catch in the sea!  It features our Collectible 6 inch "Bubbles" Coral Fish Bearington Bear Plush.  This adorable plush can soften up any sea anemone with his super soft orange and white fur, and finely crafted high quality stitching and details illustrative of the award winning Bearington Bear Collection.  Bubbles is from the Bearington "Stout Sprouts with Sound" collection, so he has a bean weighted bottom, and he makes a bubble noise when you squeeze his furry fin!  Plus our authentic 13 oz. Finding Nemo Flip-Straw Plastic Travel Cup - filled with 3 FULL SIZE Popular Candy Bars/Kids Candy (including Swedish Fish gummies).  Topped with a fun Rainbow "Starfish" Swirl Lollipop.  Embellished with our festive Orange and Yellow Cellophanes, decorative Yellow Mesh, and a Handmade Bow with lots of Curly Ribbons.  
Need specific candy or ribbon colors? Optionally list your choices under "Click to request specific Candy/Colors" above. Visit our Candy Choices page to view all candies we carry. Otherwise we will include the ribbon colors shown, and actual candy assortment may vary.
This Finding Nemo Candy Bear Bouquet is the most delicious treat in the coral reef!
Featured Products