Father's Day | Grandparents Day | New Dad Candy Bear Bouquet Beary Best Dad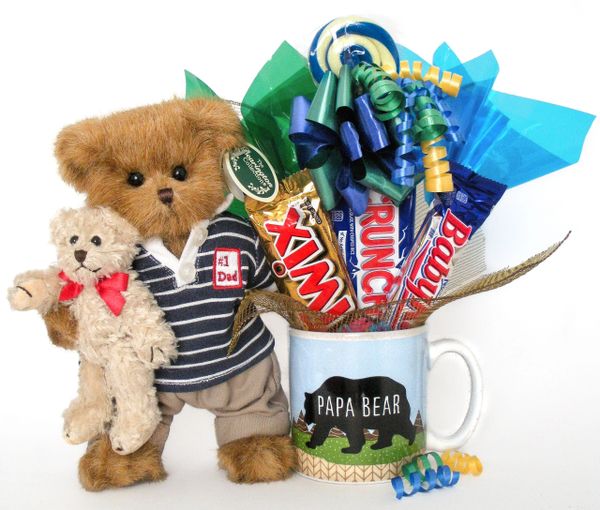 Father's Day | Grandparents Day | New Dad Candy Bear Bouquet Beary Best Dad
Sweeten up Dear Ol' Dad with our Beary Best Dad Candy Bear Gift Bouquet!  Great for Father's Day, Grandparents Day, to congratulate a New Dad, or any day!  It features our Collectible 10 inch Beary Best Dad Bearington Bear.  Dad is dressed in a high quality blue and white striped button down polo shirt and soft khaki pants, with "#1 Dad" intricately stitched on his shirt, and he holds his cuddly plush baby bear who wears a silky red ribbon bow.  Plus our whimsical 13 oz. Papa Bear Fine Ceramic Mug, filled with 3 FULL SIZE Popular Candy Bars, and topped with a satiny "Hammond's" Hand-Pulled authentic Lollipop.  Embellished with our festive Blue and Green Cellophanes, decorative Gold Mesh, and a Handmade Bow with lots of Curly Ribbons.
Need specific candy or ribbon colors? Optionally list your choices under "Click to request specific Candy/Colors" above. Visit our Candy Choices page to view all candies we carry. Otherwise we will include the ribbon colors shown, and actual candy assortment may vary/lollipop flavor may vary.
What's better than a Dad-sized bear hug?  This delicious Dad Candy Bear Bouquet!