Easter Candy Bear Bouquet Nugget Chick
Easter Candy Bear Bouquet Nugget Chick
Visit our Add On's page to add Special Occasion Picks, Lollipops, Candy Bars and more extra goodies to your Candy Bear Bouquet!
This Easter Chick Candy Bear Gift Bouquet is tweet, tweet, tweet! It features our Collectible 6 inch "Nugget" the Easter Chick authentic Ty Beanie Boo. Nugget is handmade with the highest quality materials in the industry. His tag reads, "I may be a little chick but I am very strong. Tie a ribbon around my neck and I will sing a song." Plus our whimsical 12 oz. Ceramic "Happy Easter" Mug decorated with colorful Easter eggs nestled in grass, with little yellow chicks perched on top, plus "Happy Easter" and flowers printed on the handle - filled with 20-25 pieces of assorted popular chocolates/Easter themed candy including Cadbury Eggs, Reese's Eggs and More, and topped with a yummy Bunny Swirl Lollipop, and a decadent "Hammond's" whimsical award winning Gourmet Chocolate Bar. Embellished with our elegant Yellow Silk Tulip, a fun "Happy Easter" Egg Pick, and a Handmade Bow with lots of Ribbons.
Need specific candies or ribbon colors? Optionally list your choices under "Click to request specific Candies/Colors" above. Visit our Candy Choices page to view all candies we carry. Otherwise we will include the ribbon colors shown, and actual candy assortment may vary/candy bar flavor may vary.

Featured Products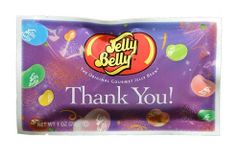 Jelly Belly Thank You Beans - ADD TO CANDY BEAR BOUQUET
$1.49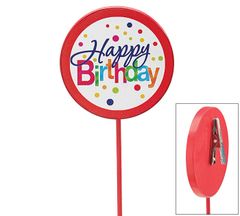 Happy Birthday Dots Wood Pick - ADD TO CANDY BEAR BOUQUET
$2.99