Easter Candy Bear Bouquet Beary Harey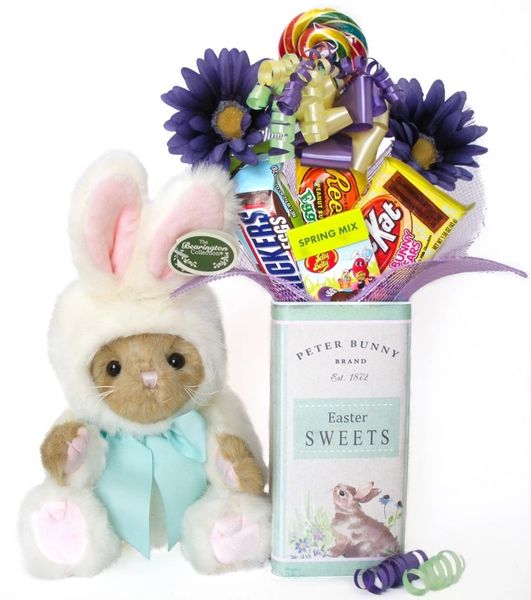 Easter Candy Bear Bouquet Beary Harey
Visit our Specials page for seasonal extras which may be added to this bouquet!

This Easter Bunny Candy Gift Bouquet is "Beary Harey"!  It features our Collectible 10 inch Beary Harey Bearington Bear, cleverly disguised as an Easter Bunny.  Beary Harey is super soft and fluffy and bendable at the joints, finely crafted with high quality fur, stitching and intricate details from the award winning Bearington Bear Collection.  This adorable bear thinks he's a bunny, in his fluffy white bunny suit - complete with a big pastel blue bow.  AND his "bunny ear hood" is removable with a velcro fastener at the chin, so he goes from bunny to bear instantly!  Plus our 7.67 x 3.54 inch old fashioned Easter Tin covered with a decorative paper label, "Peter Bunny Easter Sweets", OR optionally choose our super ornate Hand Painted/Raised Ceramic "Bunny Top Hat Mug with Feet" (16 oz., 5 1/4 inches high x 6 inches wide).  Filled with 3 FULL SIZE Popular/Easter Themed Candy Bars, PLUS a Hand-Spun "Hammond's" Gourmet Lollipop, and a yummy box of Jelly Belly Spring Mix Jelly Beans!  Embellished with our elegant Silk Purple Gerbera Daisies, and a Handmade Bow with lots of Curly Ribbons.
Need specific candy or ribbon colors? Optionally list your choices under "Click to request specific Candy/Colors" above. Visit our Candy Choices page to view all candy we carry. Otherwise we will include the ribbon colors shown, and actual candy assortment may vary/lollipop flavor may vary.
At Easter, everyone wants to be a bunny - even the bears!