Soar the Eagle Candy Bear Bouquet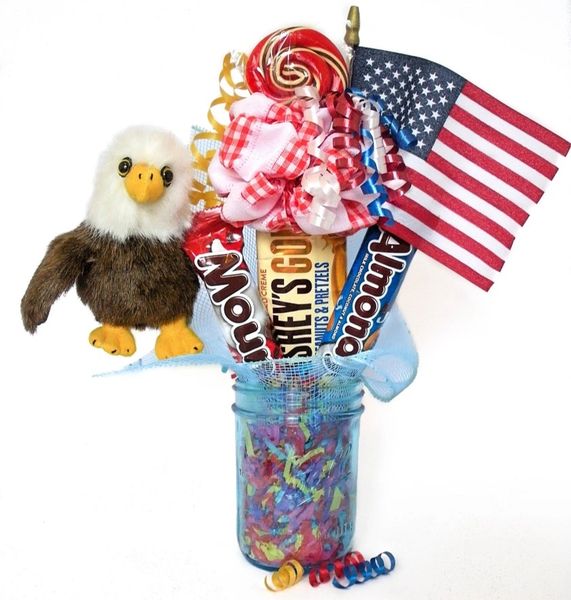 Soar the Eagle Candy Bear Bouquet
This Eagle Candy Bear Gift Bouquet will soar straight into your loved one's heart!  It features our majestic Collectible 7 inch Soar the Eagle Bearington Bear Plush.  Soar is crafted with high attention to detail plus the highest quality materials from the award winning Bearington Bear Plush collection.  He has all the intricate details of a majestic eagle, including feathery soft fur, a flouncy white tail, and intense gold rimmed eyes.  Plus our 16 oz. Ball Aqua Vintage Glass Mason Jar from the Ball "Collector's Edition" Series w/ a reusable plastic straw - filled with 3 FULL SIZE Popular Candy Bars and topped with a satiny "Hammond's" Hand-Pulled authentic Lollipop.  Embellished with our 4 x 6 inch American Flag, decorative Blue Mesh, and a Handmade Red Gingham Bow with lots of Curly Ribbons.
Need specific candy or ribbon colors? Optionally list your choices under "Click to request specific Candy/Colors" above. Visit our Candy Choices page to view all candies we carry. Otherwise we will include the ribbon colors shown, and actual candy assortment may vary/lollipop flavor may vary.
This Eagle Candy Bouquet is a classic all-American Gift!