Dinosaur Candy Bear Bouquet Spikes Dinosaur w/ Dreamcatcher Stoneware Jar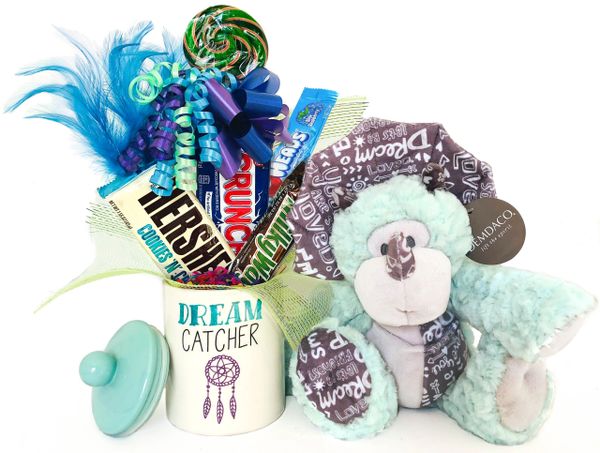 Dinosaur Candy Bear Bouquet Spikes Dinosaur w/ Dreamcatcher Stoneware Jar
This dreamy Dinosaur Candy Bouquet gives inspiration to catch dreams with a roar!  Featuring our 11 inch  Spikes Triceratops Dinosaur from the "Love You Crew" Collection by Demdaco®.  Demdaco plush are our highest quality plush, handmade with love to "Lift The Spirit".  This super soft and cuddly "dino" is a light teal color with a plush bony head ridge, plush spikes over each eye and on his nose.  His high pile plush "paleo" body is contrasted by velvety soft belly, feet and muzzle.  Best of all, his head ridge, belly, feet and spikes are illustrated with sentiments:  "Explore, Dream, You Are So Loved, Smile, Love You, Be You, Let's Be Friends" (since each plush is uniquely handmade, the sentiments/pattern will vary).  Plus our 5.8 inch high Fine Stoneware Dreamcatcher Jar from the "Our Name Is Mud" fine collection - the perfect inspiration to dream big, complete with pen and paper for recording dreams.  The front is illustrated with a "Dream Catcher"/word art, and the back has illustrated message, "Every dream begins with a DREAMER, Use this jar to catch all of your WILDEST DREAMS, Write down your dreams on a little note, and keep them safe in this jar.  Now watch them become a reality.  DREAM BIG, DREAMS DO COME TRUE!"  Filled with 3 FULL SIZE Popular Candy Bars PLUS an extra Air Heads Bar.  Topped with a "Hammond's" Hand-Spun Gourmet Lollipop, and embellished with our delicate Teal Blue Feathers, decorative Green Mesh, and a Handmade Bow with lots of Curly Ribbons.
Need specific candy or ribbon colors?  Optionally list your choices under "Click to request specific Candy/Colors" above.  Visit our Candy Choices page to view all candies we carry.  Otherwise we will include the ribbon colors shown, and actual candy assortment may vary/lollipop flavor may vary.
Send a dinosaur's share of encouragement and inspiration for congratulations, graduation, or any occasion with this dreamy dinosaur candy bouquet!