Cookie Monster Cookie Bouquet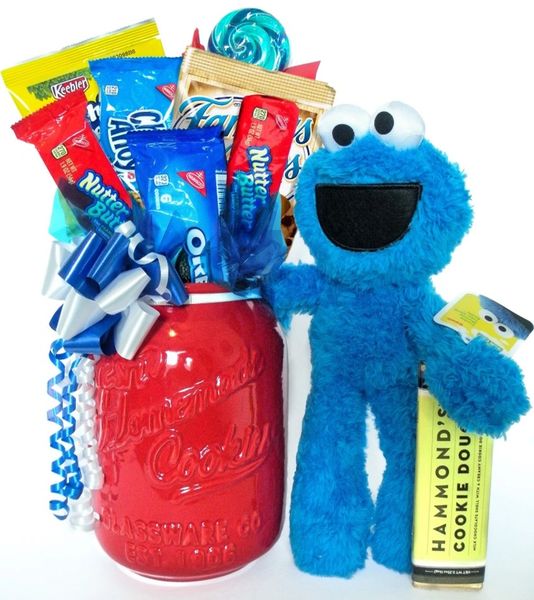 Cookie Monster Cookie Bouquet
Cookie Monster has been caught with his hand in the Cookie Jar, with this fantastic Cookie Monster Cookie Bouquet!  It features our huggable 13 inch Cookie Monster GUND Sesame Street Plush.  This adorable heirloom plush is crafted with premium materials and famous GUND top quality standards.  He is squishably soft, with long limbs that are perfect for on-the-go adventures.  Plus our big 7 1/2 inch x 5 inch Retro-Chic Ceramic Cookie Jar with Embossed Vintage Red Mason Jar Design, complete with a Ceramic Airtight Lid - filled with your choice of 6 Packages of Cookies (assorted popular cookies - Oreos, Chips Ahoy, Nutter Butter, Keebler Chips Deluxe, Keebler Fudge Stripes, Famous Amos Chocolate Chip - assortment may vary) OR any FULL SIZE Candy Assortment, a satiny "Hammond's" Hand-Pulled authentic Lollipop, and a decadent "Hammond's" award winning Gourmet Chocolate Bar.  Embellished with our colorful Cellophanes, and a Handmade Bow with lots of Curly Ribbons.
Need specific cookies, candies or ribbon colors? Optionally list your choices under "Click to request specific Cookies/Candies/Colors" above. Visit our Candy Choices page to view all candies we carry. Otherwise we will include the ribbon colors shown, and actual cookie/candy assortment may vary/lollipop and candy bar flavors may vary.
Send this cuddly cookie-tastic cookie bouquet to your favorite "Cookie Monster"!