Christmas Candy Bear Bouquet Santa and Claus w/ Hand Painted/Raised Ceramic Candy Jar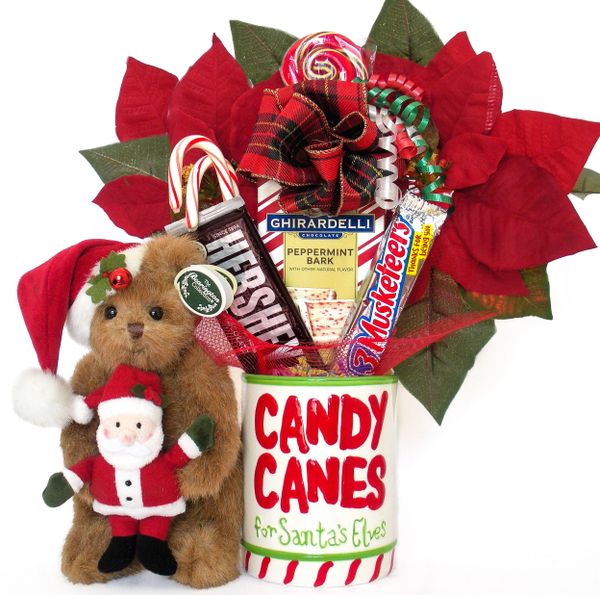 Christmas Candy Bear Bouquet Santa and Claus w/ Hand Painted/Raised Ceramic Candy Jar
Visit our Specials page for seasonal extras which may be added to this bouquet!

Christmas is a "Bear" with this Santa and Claus Christmas Candy Bear Gift Bouquet!  It features our Collectible Limited Edition 10 inch Santa and Claus Bearington Bear "pair", finely crafted with high quality fur, stitching and details from the award winning Bearington Bear Collection.  This super soft Santa bear wears a gorgeous red Santa hat trimmed with fluffy white fur, a round red jingling bell with felt green leaves, and a fluffy white pom pom, while he holds his favorite plush (Santa) "Claus" on his lap.  Plus our big amazing 6 1/2 inch high x 4 1/2 inch wide Hand Painted Raised Ceramic Candy Jar with Removable Ceramic Lid - the lid has 14 holes, perfect for holding "Candy Canes for Santa's Elves"!  Filled with 1 FULL SIZE  Gourmet Ghirardelli Peppermint Bark Bar, 2 FULL SIZE Popular Candy Bars, 2 Peppermint Candy Canes, and topped with a "Hammond's" Hand-Spun Gourmet Lollipop.  Embellished with our big lovely Silk Poinsettias, decorative Red Mesh, and a Handmade Christmas Ribbon Bow with lots of Curly Ribbons.
Need specific candy or ribbon colors? Optionally list your choices under "Click to request specific Candy/Colors" above. Visit our Candy Choices page to view all candies we carry. Otherwise we will include the ribbon colors shown, the Ghirardelli Peppermint Bark Bar, and the popular candy bars may vary/lollipop flavor may vary.
Ho Ho Ho!  Yum Yum Yum!