Christmas | New Year Candy Bear Bouquet Frost Snowman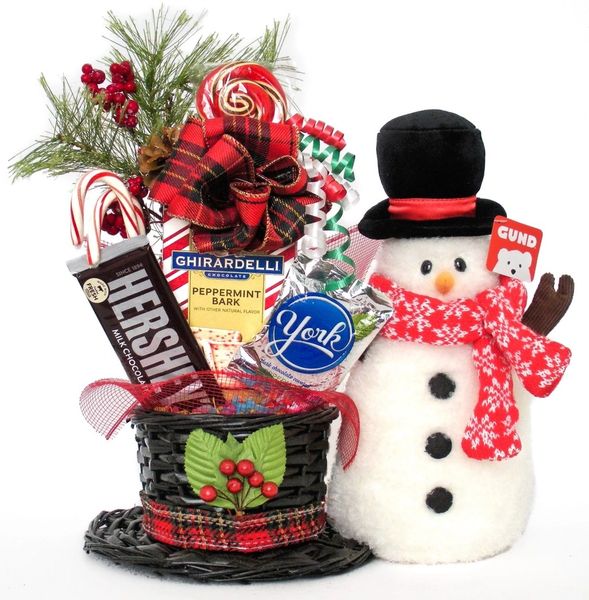 Christmas | New Year Candy Bear Bouquet Frost Snowman
Visit our Specials page for seasonal extras which may be added to this bouquet!

There must have been some magic, in that old silk hat they found!  This Christmas Snowman Candy Gift Bouquet is great for Christmas or Happy New Year!  Featuring our Collectible Limited Edition 12.5 inch "Frost" the Snowman GUND Plush.  Frost is an original heirloom plush crafted with premium materials for unparalleled softness and huggability, signature to the GUND award winning collection.  He sports a classic carrot nose and corduroy twig arms, and wears a classy velour top hat and a cozy snowflake-patterned knitted scarf.  Plus our 8 inch wide x 4 inch high whimsical Snowman Top Hat Basket adorned with a Plaid Cotton Band and Holly Berries and Silk Leaves - filled with 1 FULL SIZE Gourmet Ghirardelli Peppermint Bark Bar, 2 FULL SIZE Popular Candy Bars, 2 Peppermint Candy Canes, and topped with a satiny "Hammond's" Hand-Pulled authentic Lollipop.  Embellished with our lovely Snow Coated Pine Tree Branch Florals with a Pine Cone and Berries, decorative Red Mesh, and a Handmade Christmas Ribbon Bow with lots of Curly Ribbons.
Need specific candy or ribbon colors? Optionally list your choices under "Click to request specific Candy/Colors" above. Visit our Candy Choices page to view all candies we carry. Otherwise we will include the ribbon colors shown, the Ghirardelli Peppermint Bark Bar will be included, and the 2 Popular Candy Bars assortment may vary/lollipop flavor may vary.
Frost's magic hat is full of surprises with this magical Snowman Candy Bear Bouquet!