Cat Candy Bouquet Cali Cat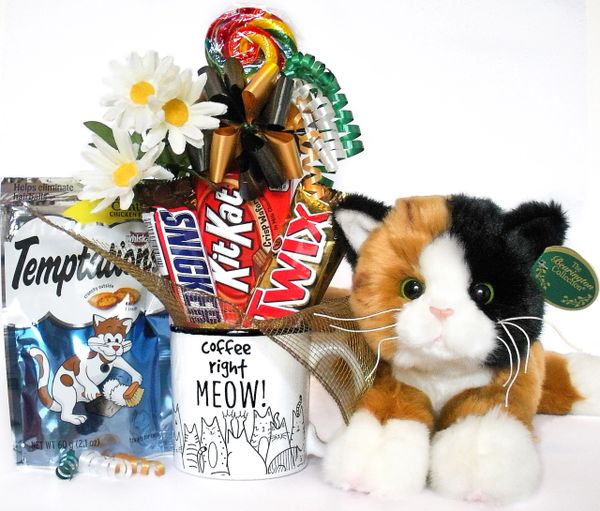 Cat Candy Bouquet Cali Cat
This adorable Cali the Cat Candy Gift Bouquet is "Purr"fect for any occasion!  It features our Big Collectible 15 inch Cali the Cat Bearington Bear Plush.  Cali is finely crafted with high quality fur, stitching, materials and attention to detail from the award winning Bearington Bear Collection.  Her intricate details make her irresistible, with her realistic brown, black and white calico fur and her beautiful bright marble eyes.  Plus our whimsical, Fine Ceramic 13 oz. "Coffee Right Meow" Mug, filled with 3 FULL SIZE Popular Candy Bars, featuring a "Kit Kat" of course.  Topped with a satiny "Hammond's" Hand-Pulled authentic Lollipop, and a scrumptious bag of Cat Treats for kitty!  (Actual brand of cat treats will vary.)  Embellished with our delicate White Silk Daisies, decorative Moss colored Mesh, and your choice of our Handmade black and gold OR Pawprint Bow with lots of Curly Ribbons.
Need specific candy or ribbon colors? Optionally list your choices under "Click to request specific Candy/Colors" above. Visit our Candy Choices page to view all candies we carry. Otherwise we will include the ribbon colors shown, and actual candy assortment may vary/lollipop flavor may vary. 
This Kitty Cat Candy Bouquet is the Cat's Meow!