Candy Bear Bouquet Blossom Gardenbeary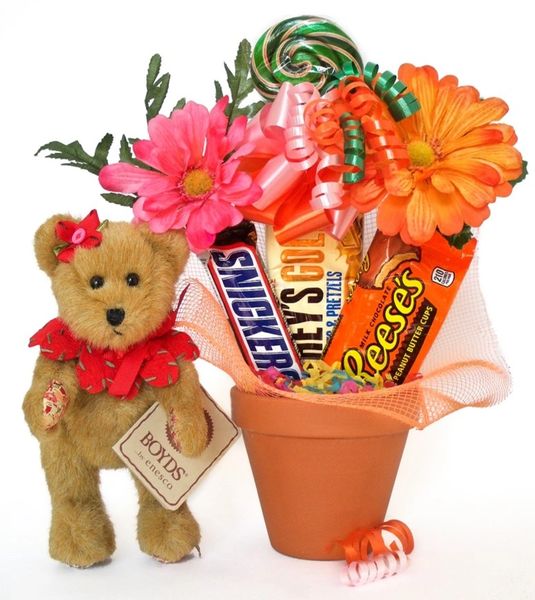 Candy Bear Bouquet Blossom Gardenbeary
The sweets are in bloom with this Blossom Gardenbeary Candy Bear Gift Bouquet!  It features our Collectible 8 inch Limited Edition Blossom Gardenbeary Heirloom Boyds Bear, from the Boyds "Fashion Family" Collection, and the exclusive "Friends of Boyds" 2011 Collector's Club.  The award winning Boyds Bears made people smile for over 30 years, hand crafted with the highest custom-blended fabrics with disc jointing and hand stitched whimsical details.  Since Boyds Bears were officially retired in 2014, they are highly valued collectibles.  This adorable bear wears a whimsical felt scarf of ruffles and flower petals, stitched with green yarn accents and finished with a ribbon bow, plus a double ribbon bow with a pink center stitched button just above her fuzzy right ear.  Plus your choice of our 4 inch high Orange Clay Pot (perfect for planting bears) OR our lovely 16 oz. Fall Distressed Painted Glass Mason Jar - filled with 3 FULL SIZE Popular Candy Bars, and finished with a satiny "Hammond's" Hand-Pulled authentic Lollipop.  Embellished with our lovely Silk Zinnia Flowers, decorative Orange Mesh, and a Handmade Bow with lots of Curly Ribbons.
Need specific candy or ribbon colors? Optionally list your choices under "Click to request specific Candy/Colors" above. Visit our Candy Choices page to view all candies we carry. Otherwise we will include the ribbon colors shown, and actual candy assortment may vary/lollipop flavor may vary.
The sun is always shining with this Blossom Gardenbeary Candy Bear Bouquet!