Candy Bear Bouquet Beary Cherry
Candy Bear Bouquet Beary Cherry
Visit our Add On's page to add Special Occasion Picks, Lollipops, Candy Bars and more extra goodies to your Candy Bear Bouquet!
The bears are in bloom with this Beary Cherry Candy Bear Gift Bouquet! It features our Collectible 10 inch Beary Cherry Heirloom Bearington Bear, from the finely crafted Bearington Bear Collection. As with all Bearington Bears, he is a true collectible - his introductory date was Spring 2016, and when his design retires his value will continually increase. Beary Cherry is bendable at the joints, and he holds his "beary own" bushel of thick felt cherries, which just match his snazzy red and white polka dot bow tie. Plus our 4 1/2 inch high X 5 inch wide hearty grey Cement Planter (perfect for planting bears), labeled with "Flowers & Garden" - filled with 20-25 pieces of assorted popular chocolates/Jolly Rancher Cherry candies, and finished with a satiny "Hammond's" Hand-Pulled authentic Lollipop, and a decadent "Hammond's" award winning Gourmet Chocolate Bar. Embellished with our lovely Hawthorne Silk Greenery, and a Handmade Bow with lots of curly ribbons. And of course, a colorful metal gardening shovel!
Need specific candies or ribbon colors? Optionally list your choices under "Click to request specific Candies/Colors" above. Visit our Candy Choices page to view all candies we carry. Otherwise we will include the ribbon colors shown, and actual candy assortment may vary/lollipop and candy bar flavors may vary.
This Candy Bear Bouquet was freshly picked from the "Beary Cherry" Tree!

Featured Products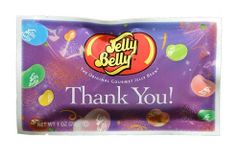 Jelly Belly Thank You Beans - ADD TO CANDY BEAR BOUQUET
$1.49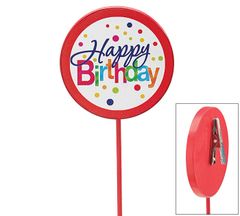 Happy Birthday Dots Wood Pick - ADD TO CANDY BEAR BOUQUET
$2.99