Butterfly Candy Bear Bouquet Layla Butterfly Bunny
Butterfly Candy Bear Bouquet Layla Butterfly Bunny
Visit our Add On's page to add Special Occasion Picks, Lollipops, Candy Bars and more extra goodies to your Candy Bear Bouquet!
This Layla Butterfly Bunny Candy Bear Gift Bouquet will flutter into their hearts! It features our fabulous Collectible 10 inch Layla Bunny Bearington Bear Plush. Layla is finely crafted with high quality fur, stitching and attention to detail illustrative of the award winning Bearington Bear Collection. She is intricately dressed to catch Spring butterflies with her lovely pink and green zig zag striped dress, with delicate white scalloped trim and a precious bunny face lovingly stitched on her chest. Her intricate details include soft pink paws and a pink nose, that just match the thick cottony pink ribbon bow between her precious pink ears! Plus our delicate 4 1/2 inch high Embossed Tin Pot with a punched out Butterfly Design (color based on availability), 20-25 pieces of assorted popular chocolates/candy, and topped with a satiny "Hammond's" Hand-Pulled authentic Lollipop, and a decadent "Hammond's" award winning Gourmet Chocolate Bar. Embellished with our lovely Butterfly Pick made of feathers with glitter and gems on the wings (color based on availability), and a Handmade Bow with lots of Ribbons.
Need specific candies or ribbon colors? Optionally list your choices under "Click to request specific Candies/Colors" above. Visit our Candy Choices page to view all candies we carry. Otherwise we will include the ribbon colors shown, and actual candy assortment may vary/lollipop and candy bar flavors may vary.

Featured Products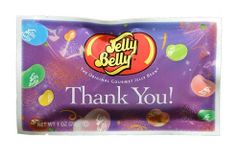 Jelly Belly Thank You Beans - ADD TO CANDY BEAR BOUQUET
$1.49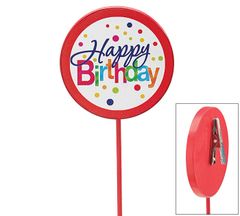 Happy Birthday Dots Wood Pick - ADD TO CANDY BEAR BOUQUET
$2.99