Breast Cancer Candy Bear Bouquet Survivor Sock Monkey
Breast Cancer Candy Bear Bouquet Survivor Sock Monkey
Visit our Add On's page to add Special Occasion Picks, Lollipops, Candy Bars and more extra goodies to your Candy Bear Bouquet!
Celebrate strength and survival with this Breast Cancer Survivor Candy Bear Gift Bouquet!  It features our 9 inch "Lovely Little Sock Monkey" Designer Plush Sock Monkey by Mary Meyer.  This sock monkey is full of charm with her "Pink Pizzazz" print on soft velour fabric, with contrasting patterns on her ears, hands and feet.  Your choice between "Peace" pattern with artistic peace symbols all over, OR "Dots" pattern with owls, flowers and dots.  Plus our Designer Hand Painted, Raised Ceramic Decal Message Mug by Joanne Sharpe, 4 1/2 inches high (12 oz.) with pink awareness ribbons all over and a whimsical pink striped handle, with message, "I'm a Survivor.  What's Your Superpower?" - filled with 20-25 pieces of assorted popular chocolates/candy, and topped with a satiny "Hammond's" Hand-Pulled authentic Lollipop, and a decadent "Hammond's" whimsical award winning Gourmet Chocolate Bar.  Embellished with our 14 inch Breast Cancer Awareness "Magic" Wand, our elegant Pink and White Silk Daisy, and a Handmade Bow with lots of Ribbons.  *2.5% of all profits from this Candy Bear Bouquet are donated to the American Breast Cancer Foundation (ABCF).
Need specific candies or ribbon colors? Optionally list your choices under "Click to request specific Candies/Colors" above. Visit our Candy Choices page to view all candies we carry. Otherwise we will include the ribbon colors shown, and actual candy assortment may vary/lollipop and candy bar flavors may vary.
Celebrate breast cancer survival with "Pink Pizzazz", with this lovely Candy Bear Bouquet!

Featured Products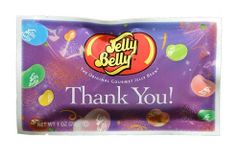 Jelly Belly Thank You Beans - ADD TO CANDY BEAR BOUQUET
$1.49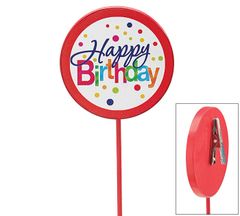 Happy Birthday Dots Wood Pick - ADD TO CANDY BEAR BOUQUET
$2.99