Basketball Candy Bear Bouquet Stretch Giraffe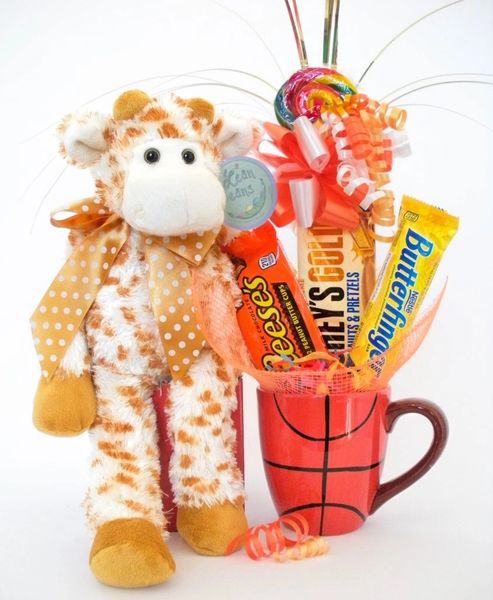 Basketball Candy Bear Bouquet Stretch Giraffe
This Stretch Giraffe Basketball Candy Bear Gift Bouquet is the star of the court!  It features our Collectible 15 inch Stretch Giraffe "Lean Bean" Bearington Bear Plush.  Stretch is plenty tall enough to "swoop the hoops" with his long "smoosh-able" bean weighted legs, and his finely crafted high quality fur, stitching and details from the award winning Bearington Bear Collection.  And he sports a playful polka dot ribbon bow.  Plus our 13 oz. Hand Painted Ceramic Basketball Mug, filled with 3 FULL SIZE Popular Candy Bars, and topped with a satiny "Hammond's" Hand-Pulled authentic Lollipop.  Embellished with our shiny Gold Foil Party Spray, decorative Orange Mesh, and a Handmade Bow with lots of Curly Ribbons. 
Need specific candy or team colors? Optionally list your choices under "Click to request specific Candy/Colors" above. Visit our Candy Choices page to view all candies we carry. Otherwise we will include the ribbon colors shown, and actual candy assortment may vary/lollipop flavor may vary. 

This scrumptious giraffe Candy Bear Bouquet is nothin' but net...and yum!