Baseball Candy Bear Bouquet Moxie Hog Dog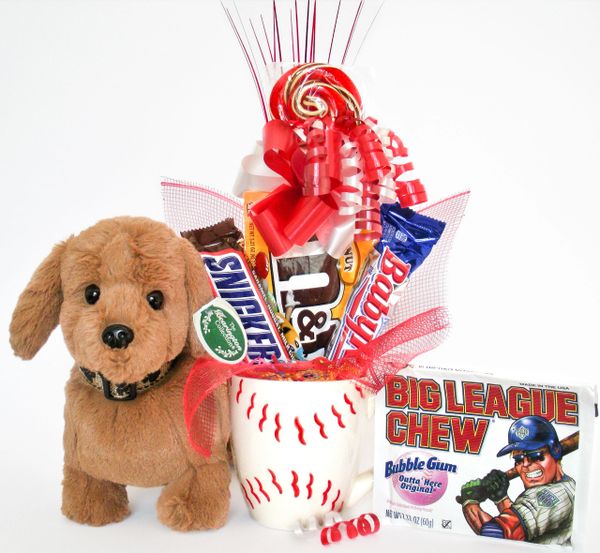 Baseball Candy Bear Bouquet Moxie Hog Dog
So it's "Ruff!  Ruff!  Ruff!" for the home team, with this Moxie Hot Dog Baseball Candy Bear Gift Bouquet!  Great for any occasion, featuring our 12 inch Collectible Limited Edition Moxie Dog Bearington Bear Plush.  Moxie is finely crafted with high quality fur, stitching and details from the award winning Bearington Bear Collection, with his velvety soft fur and his thick nylon lucky paw print collar.  And don't forget those squeezable floppy ears!  Since Moxie retired in 2020, he is a highly limited collectible continually appreciating in value.  Plus our 13 oz. Hand Painted Ceramic Baseball Mug, filled with 3 FULL SIZE Popular Candy Bars, plus the MLB favorite Big League Chew Bubble Gum, and topped with a satiny "Hammond's" Hand-Pulled authentic Lollipop.  Embellished with our colorful Red Foil Spray, decorative Red Mesh, and a Handmade Bow with lots of Curly Ribbons.
Need specific candy or team colors? Optionally list your choices under "Click to request specific Candy/Team Colors" above. Visit our Candy Choices page to view all candies we carry. Otherwise we will include the ribbon colors shown, and actual candy assortment may vary/lollipop flavor may vary.

After all, what's a baseball game without a classic hot dog?