Ballet Candy Bear Bouquet Twirlina Ballerina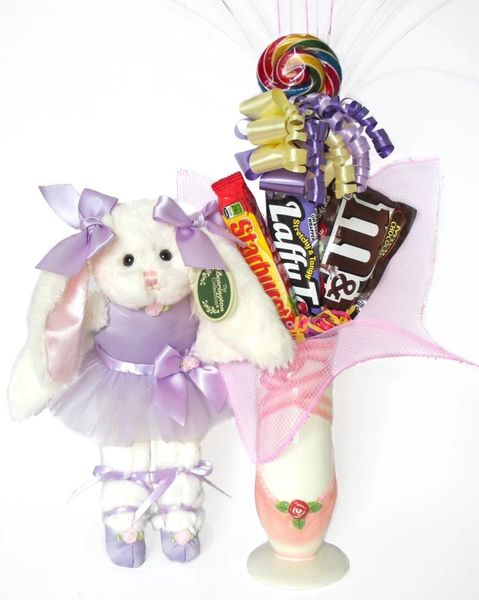 Ballet Candy Bear Bouquet Twirlina Ballerina
Meet Twirlina Ballerina, the Bunny Ballerina!  This elegant Ballet Candy Gift Bouquet features our Heirloom Collectible 12 inch Twirlina Ballerina Bearington Bunny, finely crafted with intricate details and high quality materials and stitching, from the award winning Bearington Bear Collection.  Twirlina is beautifully dressed in her purple ballet dress, with layers upon layers of silky tulle, accented with delicate pink silk rose buds that match her precious pink ears.  Plus she wears silky ballet slippers that lace all the way up her ankles, and pretty purple bows on the tops of her bunny ears.  Accompanied with our elegant 8 inch Hand Painted Raised Ceramic Ballerina Shoe Vase - a wonderful ballet keepsake - filled with 3 FULL SIZE Popular Kids Candies, and topped with a satiny "Hammond's" Hand-Pulled authentic Lollipop.  Embellished with our delicate Iridescent Party Spray, decorative Pink Mesh, and a Handmade Bow with lots of Curly Ribbons.
Need specific candy or ribbon colors? Optionally list your choices under "Click to request specific Candy/Colors" above. Visit our Candy Choices page to view all candies we carry. Otherwise we will include the ribbon colors shown, and actual candy assortment may vary/lollipop flavor may vary. 
This beloved ballerina bunny bouquet is great for dance recitals, Easter, or anytime!