Baby Candy Bear Bouquet Zeebs and Children of the Inner Light
Baby Candy Bear Bouquet Zeebs and Children of the Inner Light
Visit our Add On's page to add Special Occasion Picks, Lollipops, Candy Bars and more extra goodies to your Candy Bear Bouquet!

What's black and white and soft all over? Our adorable Baby Candy Bear Bouquet featuring "Zeebs" the Zebra, and our lovely designer "Children of the Inner Light" Mug! "Zeebs" is a 10 inch limited edition Baby GUND plush, with super soft huggable material built to famous GUND quality standards. He has embroidered eyes and nose details, and his mane is the same silky soft material as on baby blankets. Our high quality 16 oz. Stoneware "New Mom" or "New Dad" mug is from the "Children of the Inner Light" collection, with raised/embossed artwork and decorated handle designed by "Marci". This mug celebrates the joys and challenges of new parents with message on the back, "You have been blessed by the unfolding of a greater plan with a new life. May love guide you every day, and remind you that the bond you have found is everlasting", plus message on the rim, "The bonds we have are everlasting". Filled with 20-25 pieces of assorted popular chocolates/candy, and topped with a satiny "Hammond's" Hand-Pulled authentic Lollipop, and a decadent "Hammond's" award winning Gourmet Chocolate Bar. Choose neutral ribbon colors for boy or girl, or pink for girl, or blue for boy. Optionally add "It's a Boy" or "It's a Girl" bubblegum cigars and an occasion pick. Embellished with our delicate Silk Gypsophila Flowers, and a Handmade Bow with lots of Ribbons.
Need specific candies or ribbon colors? Optionally list your choices under "Click to request specific Candies/Colors" above. Visit our Candy Choices page to view all candies we carry. Otherwise we will include the ribbon colors shown, and actual candy assortment may vary/lollipop and candy bar flavors may vary.

Featured Products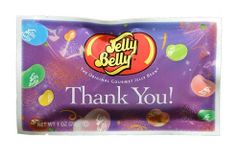 Jelly Belly Thank You Beans - ADD TO CANDY BEAR BOUQUET
$1.49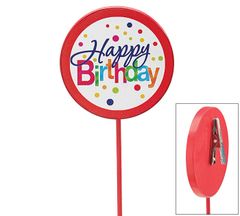 Happy Birthday Dots Wood Pick - ADD TO CANDY BEAR BOUQUET
$2.99