Administrative Professionals Candy Bear Bouquet Zag Creative Genius
Administrative Professionals Candy Bear Bouquet Zag Creative Genius
Visit our Add On's page to add Special Occasion Picks, Lollipops, Candy Bars and more extra goodies to your Candy Bear Bouquet!
Celebrate creativity with this Cuddly Creative Genius Candy Bear Bouquet!  Great for your favorite Administrative Professional, Boss, Teacher, Graduate or any creative genius!  Featuring our unique Collectible 16 inch "Zag" the quirky gray and white striped Teddy Bear from the award winning GUND collection. Crafted with famous GUND high quality standards, Zag is super soft and huggable with floppy arms and legs and a cute crooked smile.  He knows that being unique is just another way to have fun!  Plus our high quality 16 oz. Stoneware Designer Mug by Our Name is Mud, with eye-catching typography message - "I am a hard-working talented passionate imagination filled dreamer & doer, one of a kind possibility seeing CREATIVE GENIUS", plus decorative swirls on the inside rim and handle.  Filled with 20-25 pieces of assorted popular chocolates/candy, and topped with a satiny "Hammond's" Hand-Pulled authentic Lollipop, and a decadent "Hammond's" award winning Gourmet Chocolate Bar.  Embellished with a our flashy Green Glitter Spray, and a Handmade Bow w/ lots of Curly Ribbons.
Need specific candies or ribbon colors? Optionally list your choices under "Click to request specific Candies/Colors" above. Visit our Candy Choices page to view all candies we carry. Otherwise we will include the ribbon colors shown, and actual candy assortment may vary/lollipop and candy bar flavors may vary.
This unique Candy Bear Bouquet is great for Administrative Assistants Day, Boss's Day, Teachers, Graduation, or any creative genius!

Featured Products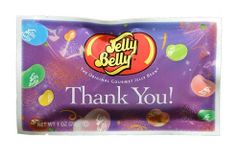 Jelly Belly Thank You Beans - ADD TO CANDY BEAR BOUQUET
$1.49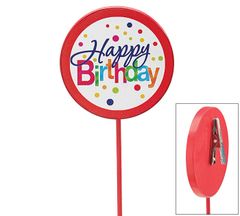 Happy Birthday Dots Wood Pick - ADD TO CANDY BEAR BOUQUET
$2.99